All of Todd Alan's designs are protected by copyright.
Todd's newest creation: this set features two, much thinner versions of our Cord of Three™ rings with Outer Bands. Each ring is woven with very fine strands, making petite yet sturdy rings that are perfect for those who want to wear two rings together.
This Set of Two Smaller versions of the Cord of Three™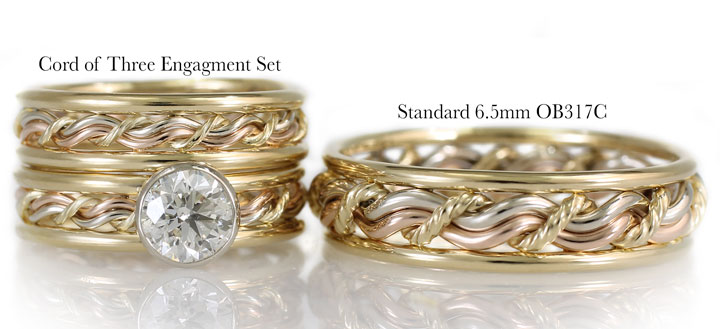 You can Customize them the same way you customize our Cord of Three™

Purchasing a Cord of three Engagement Set
Choose your matching braided rings from the first product list, then select your diamond from the second product list.
This ring set has all the same options as our original cord of three ring, including rope or smooth God strand and all metal choices. See our original cord of three rings HERE.
For more diamond options scroll to bottom of page or contact us.
Part #1: Her Ring Set - Design your set
Part #2: Choose your diamond
Part #3: His Ring: Standard 6.5mm OB317C to Match her Engagement Set
This ring is meant to be the men's companion ring to the engagement/wedding set. It is our standard cord of three ring and comes with round outer bands. To upgrade to square outer bands please choose the MATCHING metal as your original outer bands. (ex: Platinum Round Outer Bands -> Platinum Square Outer Bands). Both your ring and the square outer bands need to be added to cart for the upgrade to be applied.