All of Todd Alan's designs are protected by copyright.
Mother's Rings and Family Rings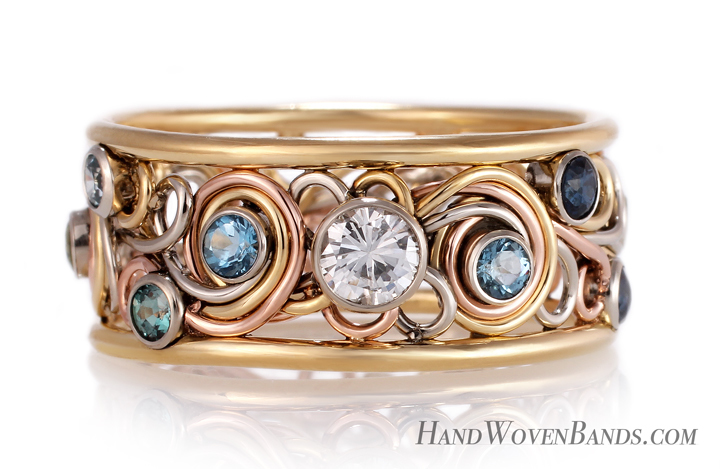 The concept of mother's ring may not be a new one but Todd's unique take on them gives them a deeply personal, special touch she will treasure. The swirl ring design is relatively recent in comparison to Todd's braided work. However, it is a classification all its own. The process of creating a swirl ring, by its very nature, ensures each one comes out completely differently than the last. He could create two back to back with the same metals but the swirls and flow will not look the same. Once the swirl ring is complete, Todd then adds your chosen birthstones, representing the members of your family, your children or your grandchildren. Much like every family, no two will ever be alike and there is an incredible beauty in that individuality.
If you have old gold to trade in or incorporate into your ring, heirloom diamonds or gemstones, or a unique type of stone or cut you want to use in your ring, please call or email us so we can set up a consultation and get you a custom quote. We want your ring to be just as special as the woman you are celebrating and incorporating loved ones past is a beautiful way to honor them.
Many women who don't prefer rings, this is the perfect way to celebrate the beautiful family she has created with a piece she will love to wear. Each swirl is interconnected, much like the branches in a tree: add her children's birthstones to represent the members of your family or choose her favorite colors and let her know just how much she means to you. For the woman who gave you everything; give her a completely one of a kind, handmade custom necklace that tells your family's story.