Masterpiece Ring Collection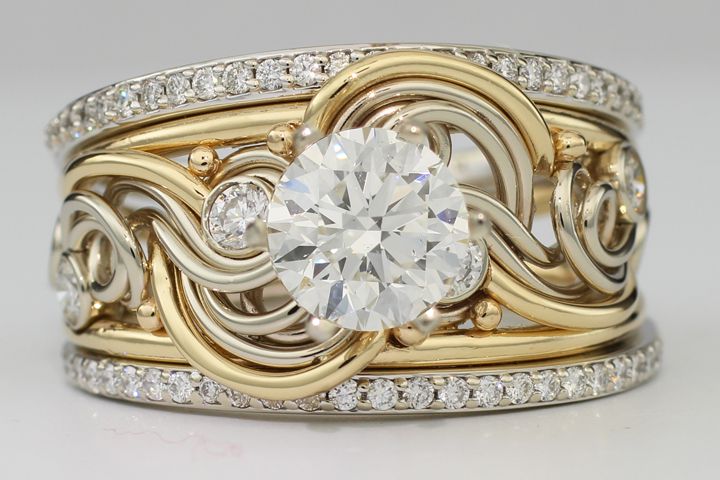 Custom Designed. Hand Braided. Todd Alan Original Masterpiece Rings
On a beautiful evening, quiet and serene. Todd's Sarasota shop has just closed but he has only just begun. Tonight his is inspired and a masterpiece ring is beginning to take form in his mind. He turns off his phone, turns up the radio and pours himself a glass of red wine. Standing, he walks to a collection of gemstones curated over a lifetime and his gaze settles. There. The perfect stone. He takes it to his desk, the piece in his mind becoming clearer the more he works the strands of gold. With a deft mastery that comes only from years of honing his unique artform, Todd braids late into the night as he brings something to life.
This is how each masterpiece comes to be: a moment seized, an idea made real. They are unique, elegant, one of a kind. They will never be repeated, you will own a piece of art that is an original – something to cherish, something that no one else will ever have. 
Todd's wedding and engagement Masterpiece Ring collection:
Each ring is a singular, stunning showpiece to be worn by itself. It embodies both the wedding and engagement ring and is an heirloom you can treasure for generations. 
Todd's gemstone masterpiece collection:
These rings are true statement pieces: bold, elegant, timeless. They are stunning rings you can wear as readily to a dinner as you can everyday. They express something about you.
Masterpiece Ring Collection - Once Sold they are Gone Forever
If you want to create your own ring you can either call us or start to design it online:
Start with the braids then you can add diamonds, gemstones, or other custom work.
Confused? If you have any questions please email us at:
All of Todd Alan's designs are protected by copyright.