All of Todd Alan's designs are protected by copyright.
Unlike mass produced wedding rings, which are cast from a mold, Todd Alan makes each ring one-at-a-time as they are ordered. The result is a lasting, unique and timeless piece of jewelry that is personal and one-of-a-kind.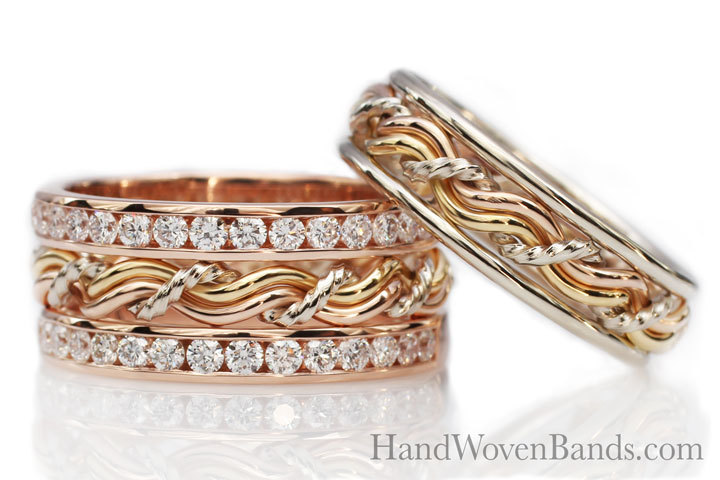 If the same braid is chosen for both people, Todd can weave one long braid and create both wedding rings out of this single braid. See our Same Braid page. 
For some, this represents two separate individuals who choose to weave their two lives together. People have incorporated this symbolism in to their vows during their ceremony. To learn more about symbolism in our rings see our Symbolism Page. 
Make Your Ring Have A Rope Center
Adding a rope center can only be done on some of the braids featured here at Todd Alan Studios. There will be a box next to the ring that says 'add a rope center' if you can add one to that braid style.
A rope center is an elegant change in texture where Todd twists the metal by hand to give your ring a very unique look. Because it does not take any extra metal it is a completely free upgrade to your ring.
While some rings come standard with rope centers, it is completely up to you and your vision if you'd like to add it to other braids.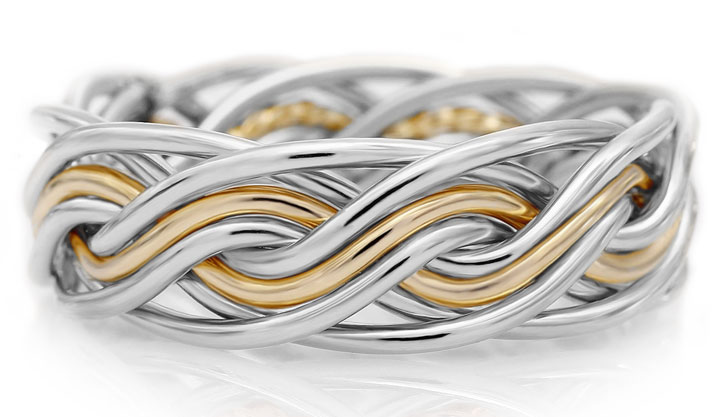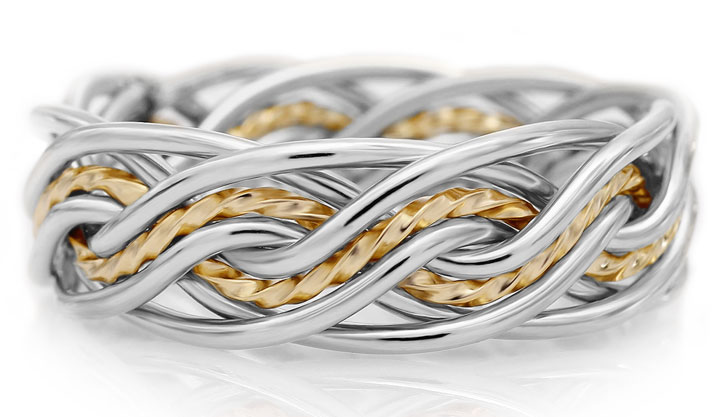 Joining the seam is some of the trickiest and most difficult parts of creating a true braided ring. Todd hand fuses each strand together with an adjoining strand from the other side until all connect together in a continuous braided looking pattern. In an eight strand ring that means joining 16 strands together at a single juncture. After 35 years of fuse welding Todd has developed very unique skills to make this seam as invisible and as strong as possible, connecting the ends to give the appearance of a continuous braid. Depending on where in the braid the seam lands and based on the customers ring size Todd can sometimes make it seem like a seamless braid going around the ring, however Todd shapes the strands to make the seam as invisible as possible adding to the unique handmade art nature of these rings.
Most people have some old or broken gold jewelry that simply sits in drawers and jewelry boxes and takes up space while gathering dust. Because we work with gold, we accept trade-in of your old stamped gold chains, rings, earrings, and other stamped gold as partial payment toward your purchase from us. We give 85% of the market value of your scrap gold toward your purchase. This is noticeably above what most pawn shops or gold buyers pay the public for gold. We do not buy gold for cash; we only accept gold toward the purchase of our products. Check with your friends and relatives to see who has scrap gold to contribute and make the ring purchase part of your wedding experience a little easier on your finances. It can feel good to recycle what you already have into something new!
Send Your Gold to Our Gallery: Todd Alan Gallery 506 S Pineapple Ave, Sarasota, FL 34236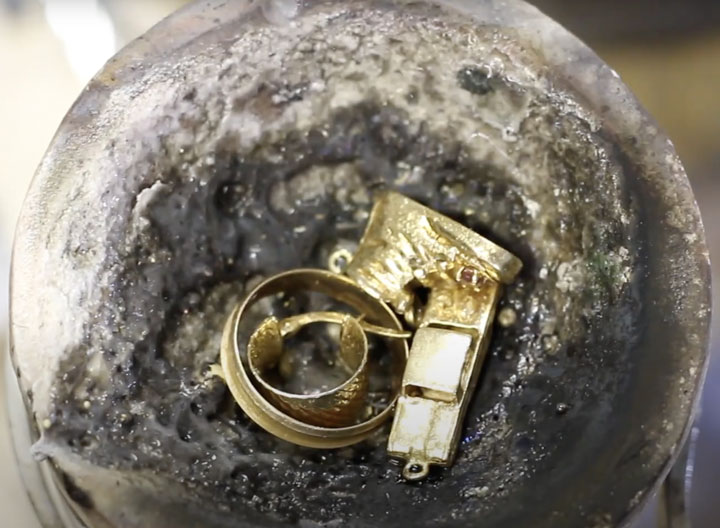 Todd hand-pours gold, shaping it into rods. He then heats the gold to soften the metal. Through a series of different drawplates, Todd pulls the softened metal into the custom round and square wire for the particular rings.

The metal has to be annealed (heated) to give Todd the exact hardness he needs to work the wire by hand.

With almost thirty years of experience, Todd hand works the metal into all the different braids you see on this site. This takes an amazing amount of hand and finger strength. Todd has become a master of these intricate braids.

Todd then finishes the ends of the strands together using a very rare and difficult technique called fusing. This technique uses the same metal for bonding the seams as used in the creation of the braids. This creates a joining of metals that is much stronger and longer lasting then soldering.
With the skill from making thousands of rings, Todd files and shapes the seam until it blends into the braid, making it almost seamless. CLICK HERE to learn more about Todd Alan.