All of Todd Alan's designs are protected by copyright.
Making rings from the Same Braid
If the same braid is chosen for both people, Todd can weave one long braid and create both wedding rings out of this single braid. 
 For some, this represents two separate individuals who choose to weave their two lives together.
People have incorporated this symbolism in to their vows during their ceremony.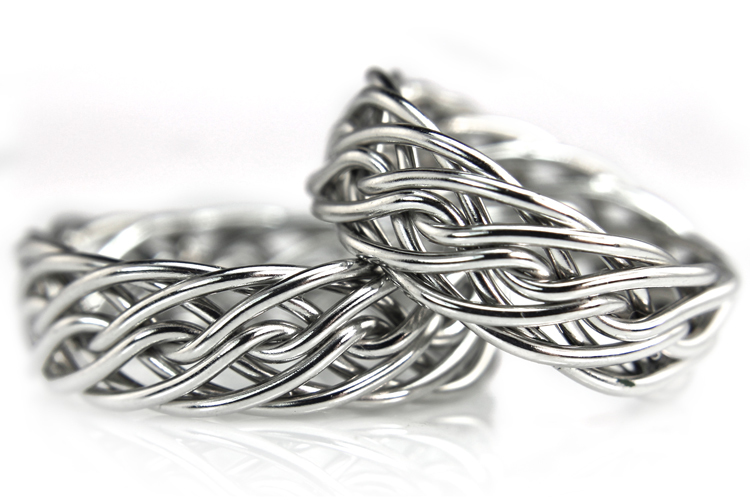 Customer Stories and Symbolism with Their Same Braid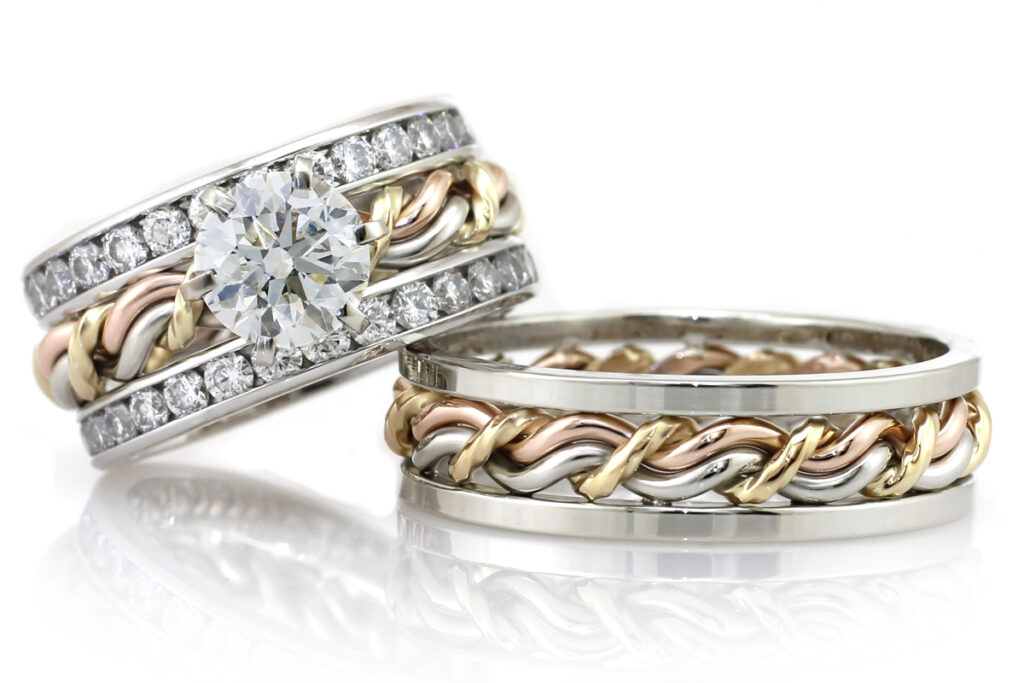 Todd:
I wanted to thank you for the beautiful rings. I had not had a chance to send you a note with the wedding preparations and all that entails. Our wedding took place on October 18th. It has been in the back of my mind to send you this little note. The rings are very beautiful and everyone has complimented us about them. What we like the most (and so does everyone else it seems) is that they are so different from the common wedding bands. The patterns are so symbolic of lives woven together and the fact that both are made from the same braid is so special. (Your service too, was exceptional. We received our order so quickly, it just surprised us.)
Thank you once again and I apologize for not writing sooner.
Best of Luck to you.
Sincerely,
Betty  and Sal
Todd, I wanted to share something with you. 
We received our rings and my beautiful bride was ecstatic with them. Her favorite part wasn't just that they represented Bible scripture from Ecclesiastes. She continually expressed her joy that they were from a single braid. What surprised me was the reaction of our 300 guests. We had countless comments as to how beautiful they are and many of our guests went out of their way to see them. Katie pointed out the single braid nearly every time. Beyond the wedding and admiration of our guests, our rings continue to represent a significant reminder of our love and the promises we made that day. Thank you for allowing the artistry of your rings to play such a significant part of our most special day and each day after.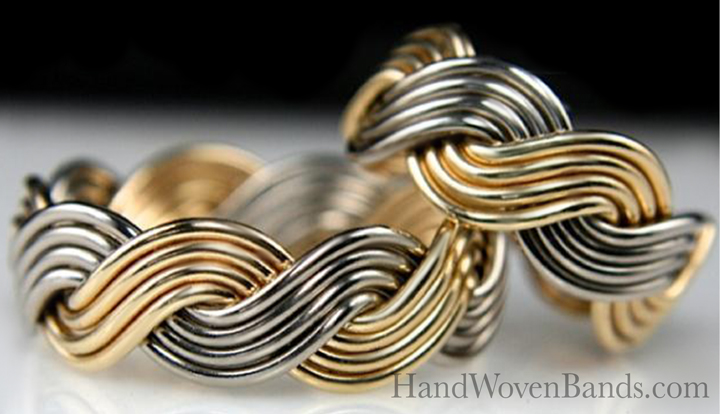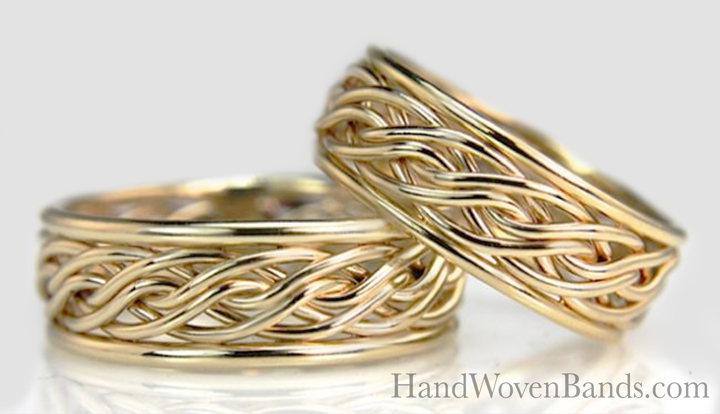 hi todd, we received our rings on sat afternoon and were thrilled with them.  they are beautiful!!!  my husbands ring fits perfect and he couldn't keep a smile off his face nor stop looking at it constantly on his finger!!  my ring is a bit snug so i may get it sized a half size larger.  i cant begin to tell you how much these rings mean to us.  they are so special with all the meaning behind them for us and the fact that they were hand crafted just for us.  i have spread the word about your jewelry and everyone who has seen our rings is marveled by them.  i want to wish you both the best and thank you for being a part of our future by making these rings.  i thought i would share one last time the meaning of our rings. The weaving of the ring signifies the weaving of our two loves together.  the two metals used signifies the two people, my husband and myself, that are married.  the silver is representing my husband as he gave our family our last name and the gold is me marrying him.  the center braid is my husband and myself and the two outer braids are our two boys we have.  the ring itself has more meaning then i could ever imagine a wedding band to have.  thank you
Dear Mr. Todd,
Thank you so much for our rings!  They are very beautiful, and I was excited to receive them in the mail today.  I wanted to let you know that they arrived safely and soundly!
I thought I'd share with you the ring exchange that I've written up for my fiance – just as a matter of interest regarding the fine work that you do, and how your work fits so perfectly in with a piece of my and my fiance's history that is sentimental to us…You once gave me a silver thread, as delicate as spider's silk.  And now that we are through the mist, our silver thread has strengthened to the gold strands of our binding love.  Like our lives, which have been gently woven and tangled together by this thread, so are our rings woven and tangled together from the same strands of gold.
I give this ring to you as our special symbol of us – eternally entwined as one, our souls created from the same gentle thread.  This is our symbol of the strength that is us, that can never be unwoven.  It is a symbol of our never-ending promise to be forever bound together, as we are always meant to be. I'm in love with you forever, my precious, wonderful James.
Thanks, again, for our beautiful rings and your fine craftsmanship!
All our best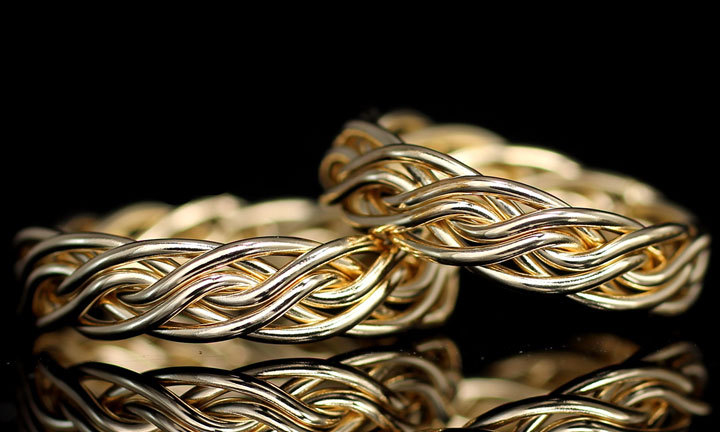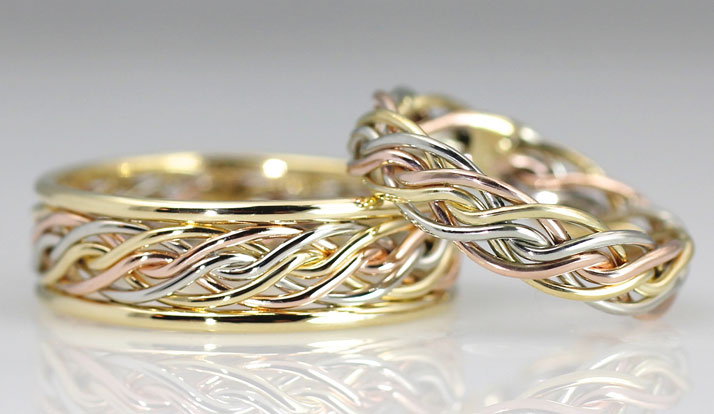 Todd;
 Kathy and I wanted to say thank you so much for the wonderful rings you've made for us.  They are so awesome and beyond what words can describe.  The craftsmanship that went into making them is going to be more then just a symbol of love.  They are going to be a strong symbol of a life earned, shared, and joined.  Thank you so much for your time, your vision, and your skilled hands, we will never forget you.
 Bill and Kathy 
Dear Todd,
In the rush of getting ready for the wedding, this is the first chance I've had to email and tell you that the rings are lovely!  They arrived in time, and look stunning.  Everyone asked about them. My husband and I love that the rings were made from one braid, symbolizing the joining of our lives.
Cindy