All of Todd Alan's designs are protected by copyright.
One Monday afternoon in October, Bill invited Jen to hike up Talcott Mountain the next day, as the forecast was unusually warm. It would surely be one if their last chances to hike in decent weather before the winter, and Bill told Jen he had a special day planned for them. His idea was to bring his cooker to warm up some hot cocoa that the two could share at the top of the mountain. Jen was excited, but concerned that she wouldn't be able to get out if work until late in the day when the sun was setting. Bill urged Jen to try her best to get out of work around 3, as this was the week that the autumn leaves are historically most vibrant and he wanted to be able to take pictures with his good camera before the sun went down.
 Jen was able to finish up at work just after 3pm and called Bill to let him know he could pick her up so they would hopefully get ahead of the traffic. Bill told Jen he had just finishing up working some overtime and that he was on his way. As Bill drove Jen to Talcott Mountain, Jen was a little suspicious that today might be the big day. Bill had said it would be a special day and that he was bringing his good camera for pictures. Was he hinting that he was going to propose? The two along with their new dog Buster arrived at the mountain and began their journey. Halfway up the mountain, Jen took a look inside Bill's backpack to grab some water. Jen noticed that Bill did not bring the hot chocolate along, and Bill said it was too warm out for hot chocolate so he brought a bottle of Jen's favorite wine instead. Jen agreed and commended Bill on the last minute swap. As Jen continued digging around in the bag, she also noticed that Bill had forgotten his good camera. When Jen asked Bill about the camera, he brushed it off, saying he had forgotten to charge it, but that he had his new Samsung Galaxy S5 that would take excellent pictures. Jen knew Bill wouldn't have forgotten his camera if he really was going to propose because Bill knew how much Jen loves pictures of the two of them and would want to have the camera along to take pictures after the special moment. Jen began to think she had jumped the gun on her suspicions and decided not to get her hopes up. After all, Bill hadn't had the opportunity to ask Jen's parents for their blessing when they had visited them the previous weekend, so it was definitely too soon to start jumping to conclusions. The three made it to the top of the mountain and Buster was very excited to say hello to all of the people who were also out to enjoy the beautiful day. Bill expressed concern that Buster was too rambunctious to take him to the edge of the ledge, so they fastened his leash to a tree and meandered over to the ledge for the photo opportunity. The two gazed with wonder at the marvelous view and the vibrant autumn colors as Bill began to express to Jen how wonderful their three years together have been and how lucky he is to call Jen his. Jen agreed and the two shared a kiss just before bill suddenly got down on one knee to reveal a leaf which he had pulled from his right pocket. Within the leaf was the most beautiful engagement ring Jen had ever seen. It was the same ring Jen had dreamed Bill would one day put on her finger since they had first met. Bill asked, "Jen, will you marry me?" Jen marveled at the sparkly ring, saying over and over how beautiful it was. Jen was so captivated that she had forgotten to answer Bill's question! After Bill prompted her to do so, Jen responded, "Yes! Of course!" And planted a kiss on Bill's lips. As she did, a crowd of people cheered and Jen looked around with confusion. Bill explained that his friend Al was hiding under a pavilion and was dutifully alerting everyone to the special event so they would stay away from the spot Bill had selected. Al waved at Jen and Bill from beneath the pavilion and Jen was pleasantly surprised that hanging around his neck was Bill's fancy camera and Al had captured the entire event moment by moment! Jen was elated and the three gathered around the camera to view the wonderful photos and enjoy the bottle of wine. Then Jen shared a confession with Bill she had been keeping a secret. Jen confessed to Bill that she had purchased a wedding dress while out shopping with her mom exactly three weeks ago. Bill indicated that was the same week he ordered Jen's ring! Clearly Jen and Bill had the same thought in mind, and it was clear they both couldn't wait to spend the rest of their lives together. -Bill and Jen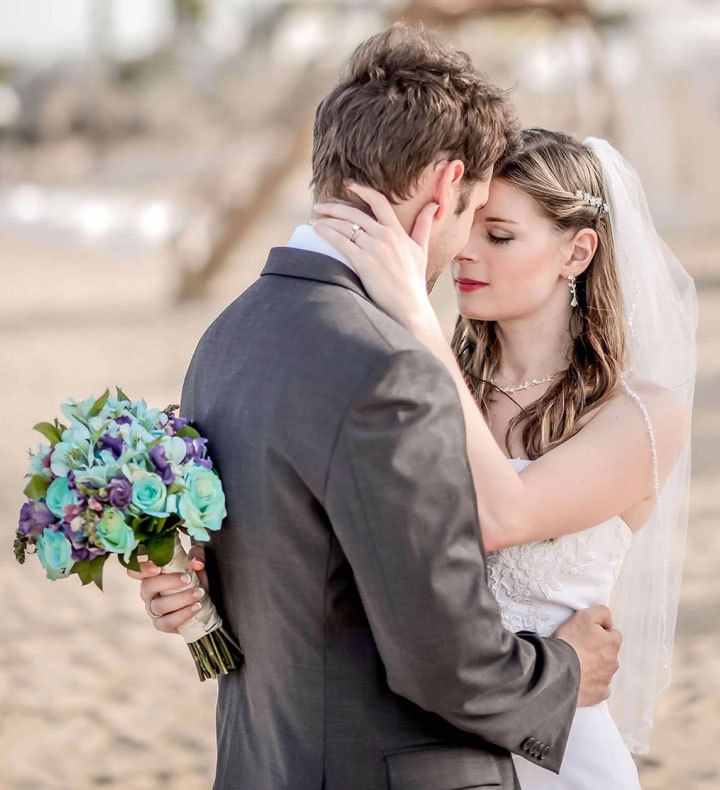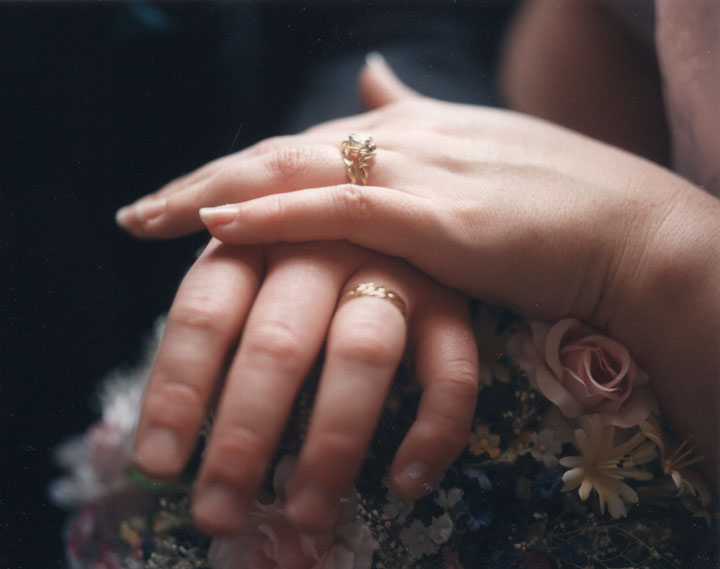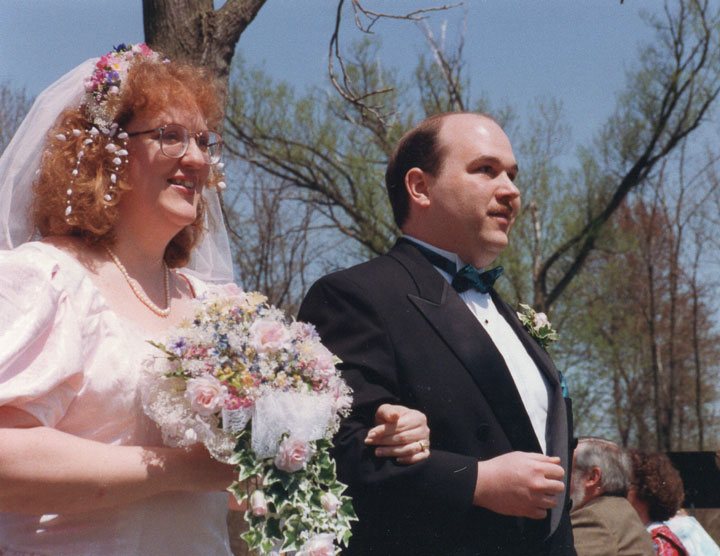 "We were friends before we were lovers, and when love blossomed between us it was unexpected, leaving us hesitant and a little unsure what to do. Could this be real? Would the journey from friendship to romance bring us joy, or only the sorrow of a ruined friendship that could never fully mend? Together, we decided to take those first tentative steps into each other's hearts, with a mutual pact that if it didn't work, we would both do our very best to retreat from romance to friendship with as much grace as humanly possible.
Our doubts for our future as a couple vanished like snowflakes touching a flame, and although it was months before we spoke the words aloud, both of us knew almost immediately that we had something special, that we had made the right choice, and that our love would endure. As we approach our 27th anniversary, we share that special feeling couples sometimes do, that our wedding was "only yesterday" and yet "we have always been part of each other's lives."
We married in 1993, and for our rings we wanted more — and less — than the usual mass-produced commercial "product." More, because it was spiritually important to both of us that the two rings should be personal, that they should have a connection to us and our beliefs. Less, because neither of us are interested in ostentatious trappings of wealth or glamor. Kathie was acquainted with Todd Alan from before and appreciated his artistic work and the sincerity of his spirituality and ethos. We visited his studio and selected the design of our rings. Scott wanted something masculine but not imposingly heavy, and without any protrusions that might catch on other objects and cause damage. Kathie wanted a stone, but something with color and in a style that was unusual without being overdone.
The pattern for our rings came from none other than the one on Todd's own finger. We have, as far as we are aware, the first two braided gold wedding rings that Todd created for sale, serial numbers one and two, if you will. We could then, and still do, feel the love that Todd put into the rings as he crafted them for us, and we feel the love that thrives between us. More than a quarter century after our visit to Todd's shop, there is absolute certainty that we made the right choice — in our rings, and in the decision we made together to risk our hearts and love one another." -Scott
Her Husbands Survival Story
"You made our rings for us in 2002. We were married on July 13th in a small, intimate ceremony in in a wonderful stone church and had our private dinner party for 30 at a place called The Grain House, which
was once exactly that and was used to supply grain for Washington's troops as they were sheltered during the winter at Jockey Hollow nearby. I was given away by my three daughters and our wedding candle was lit by my youngest daughter and my husbands daughter, to signify the blending of our families.
In November of 2018 my husband suffered a horrible cardiac arrest and actually died 8 times between the music studio he was at and the emergency room. At 5:11am on the 14th of November a nurse handed me Michael's wedding band – they had to take it off of him as he was beginning to have swelling in his hands. He was on life support and all his systems had shut down. He was retaining water and his band would have cut off circulation. I sobbed over that ring for more than an hour sitting there, holding it, begging him to let me put it back on his hand.
Through life support and 24-hour, 3 month, constant dialysis and surgeries, and implanted defibrillators, and physical therapy I wore his ring on a chain, showing him daily –
 telling him I was waiting to put it back on him. On Valentines day he was finally ready! In a sub-acute rehab, a week away from coming home – we slipped that band off the chain around my neck and back onto his hand! He came back to me.  He hasn't taken it off again since.
The photos are from our wedding in 2002. We're hoping to renew our vows this July." -Terry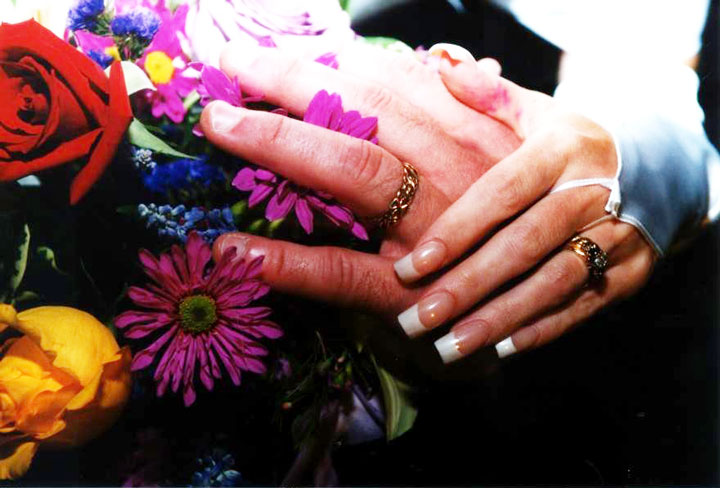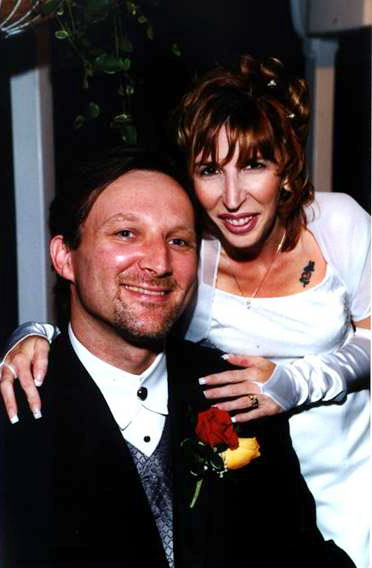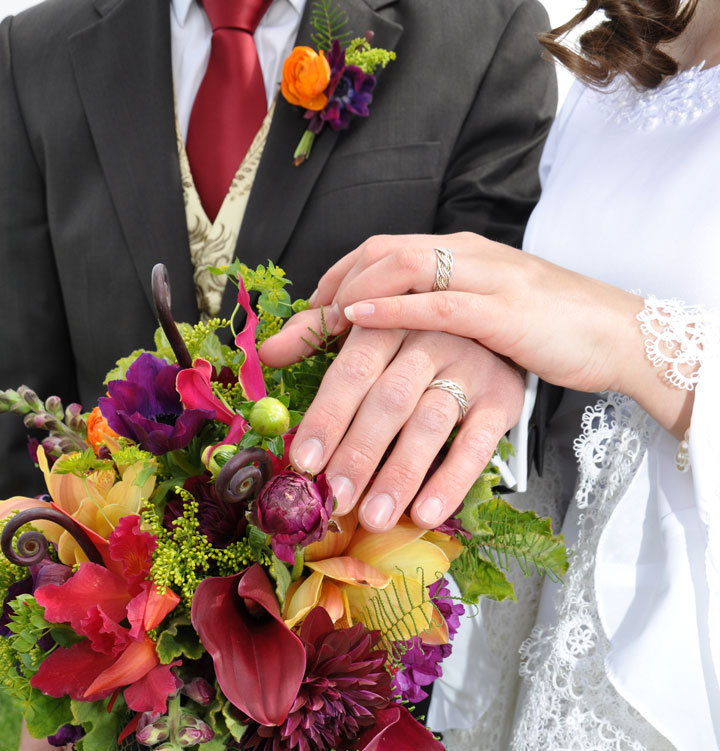 The Ring Needed Cutting Off
"We chose Todd Alan to capture the symbolism we feel was fundamental in our courtship and continuing relationship. We were both Christian missionaries and wanted a visual representation of us tied together by our love of God and His sustaining influence. Each of our rings has a strand of gold woven in and out of each wave, to represent that constant and that power. We loved seeing the rings on the website, but when our custom bands arrived our admiration of his craft quadrupled. In life, they are wonderful and resonant a care in the handcrafting. My husband jammed his finger playing basketball and Todd carefully repaired the ring (his ring needed cutting off to save his finger) and sent it back with his well wishes and a fresh polish. It's a rare interaction to have a person show such interest in making sure his art is still at its best, wherever in the world it is. Heirloom treasure." -Phillip and Lou
My husband and I got engaged February 2017 after dating for 4.5 years and Married June 2017. I am a hand therapist rehabbing hand injuries and wounds. Therefore we were looking for rings that would still be stunning without a gem (didn't want to risk scratching a patient with the gem prongs) and we found Todd's gorgeous hand woven rings. We wanted our wedding to showcase our faith and the idea of God binding our hearts together as one as well as the beauty of interracial marriage. Yellow gold to represent my lighter hue, rose gold to represent my husband's melinated hue, and white gold to represent the purity if God binding us together. Todd was fantastic to work with in creating these beautiful momentos of our love for each other. Thank you!!!
Rose & Matthew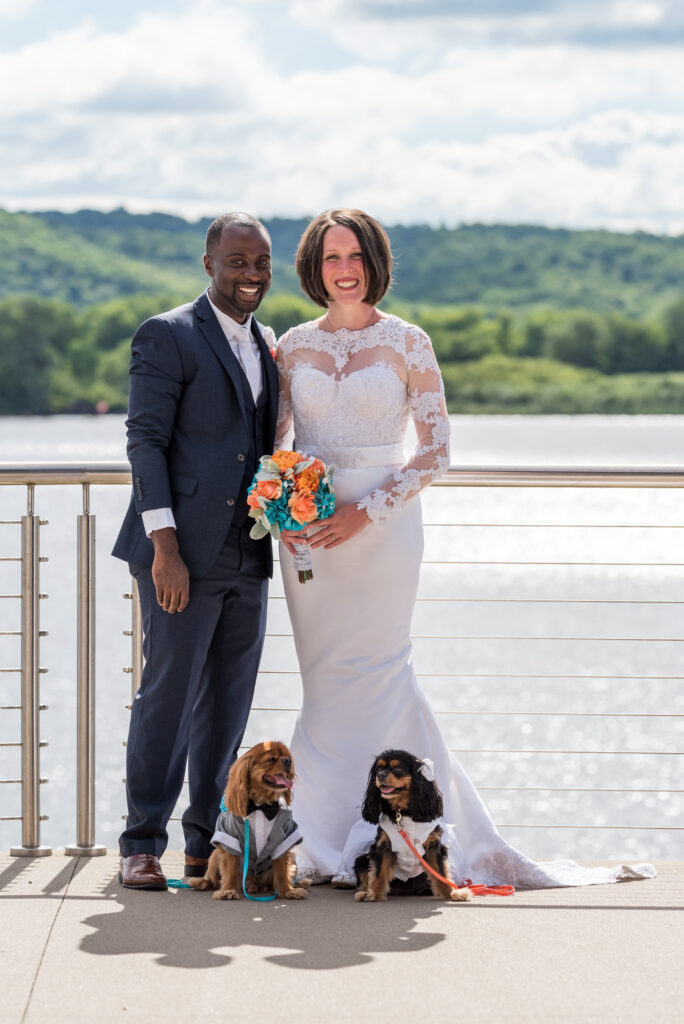 "Seeing Todd's remarkable work online is one thing, having it revealed to you in the hands of the one you love most while you're standing on a hilltop, that's a piece of magic. A ring of pure beauty, hand crafted and carefully made just for you.
I was in a place that felt to me like a fairy tale land, beautiful greenery and spring flowers all around. I felt what was coming and knew it would be a breathtaking day:
After finishing my last college final in May 2013, my boyfriend, Joseph, picked me up and took me on a celebratory hike. The beauty of that hill was something you could feel and at the top it overlooked the river and the city. I took up position on a small mound of earth, the highest point of the hill, and looked out taking in the view. When I spun around, Joseph was on one knee holding up the beautiful ring Todd made especially for me. The braided yellow and white gold shimmered in the light and that marvelous diamond gleamed, looking like a captured drop of pure water.
I know he said more than, 'will you marry me', but I was too drenched in my elation to process all the words. I replied with, "Of course I will," the ring slid on my finger and our arms and lips embraced. I was buzzing, I was going to marry my best friend, the man I couldn't imagine a future without.
On the way back down the hill I kept playing with the way the light bounced off the ring. The more I looked at it, the more I loved it and knew how perfect it was. It's a work of art that symbolizes a strong bond of lives woven together.
We'd had an eye out for ring options for a couple years, I'm very picky and Joseph knew and feared this all too well. We knew we would get married from very early on, it was just a matter of time, but I could not find a ring I liked in any store. I wanted a ring that looked old fashioned, unique, and where the whole ring was the star not just the diamond. Discovering Todd's rings and the care and unique craftsmanship that goes into them was a blessing. I fell in love with the first ring I saw and couldn't get it out of my head. Joseph had happened upon the website too and was attracted to the same ring, it was perfect.
The quality is exceptional for all his work. Before the proposal, Todd had called Joseph last minute saying the setting was being a bit finicky and he wanted to make sure it was perfect. Even though this made Joseph nervous, he admired the care for the quality and detail.
Everyone I've showed my ring to has been in awe. They hold onto my hand staring at it, taking in all the detail. I love having something so unique, special, and perfectly my style." -Katie and Joe
Matching the Wedding Cake
"Our original wedding rings were not the beautiful Todd Alan rings we now wear. Our original rings came from a box store and were fine. My husbands ring was made from a metal that cannot be sized and was always slightly too big. No matter, our engagement lasted all of three months, so we didn't have a lot of time to be picky. In our wedding the "chord of three strands" was of great importance to us. The idea that my husband and I were joining into a union with God in the center of our marriage was important to us, and my husband even had a three chorded strand put onto our wedding cake. He designed the whole thing.
About six months into our marriage my husband had an unfortunate run in with a spider web while mountain biking. Some very manly flailing ensued and the ring, that had always been too large, flew off his hand into the woods. Not to be outdone, he assured me he would find the ring, borrowed a metal detector, and swept the woods. The ring was never found. Then started my quest for a new ring. I I started my search at the same box jewelry store, but now that I had time on my hands, I found myself looking for something that was more unique to my husband. On a whim, I searched for a three strand ring. Low and behold! I was immediately in love with the rings on the site. When I read that Todd Alan studios would make both rings from the same braid, I couldn't resist. I informed my husband that by losing his wedding ring we BOTH got new ones.
The selection of our rings was simple. I picked out colors that matched what was on our wedding cake. White and rose gold. Mine is small and delicate with just those three strands of metal. My husband got a top and bottom piece of gold to make his bigger. I have loved wearing these rings every day. They hold such symbolism for both of us. The only thing I would change, is to have found them as our original rings." -Quin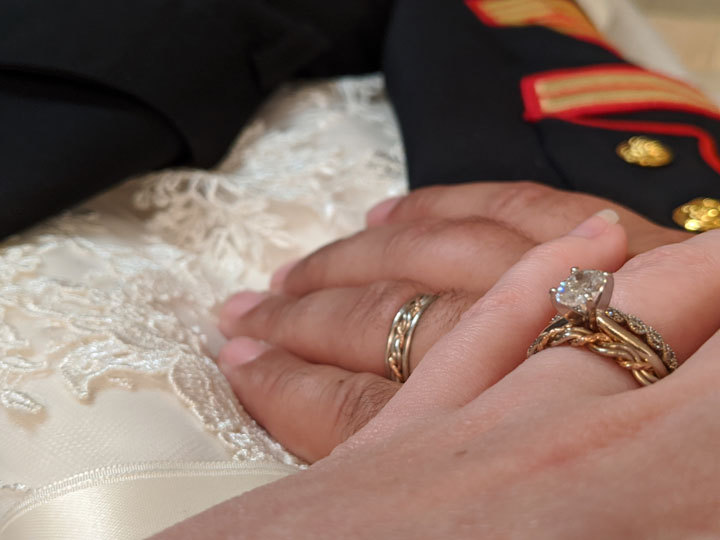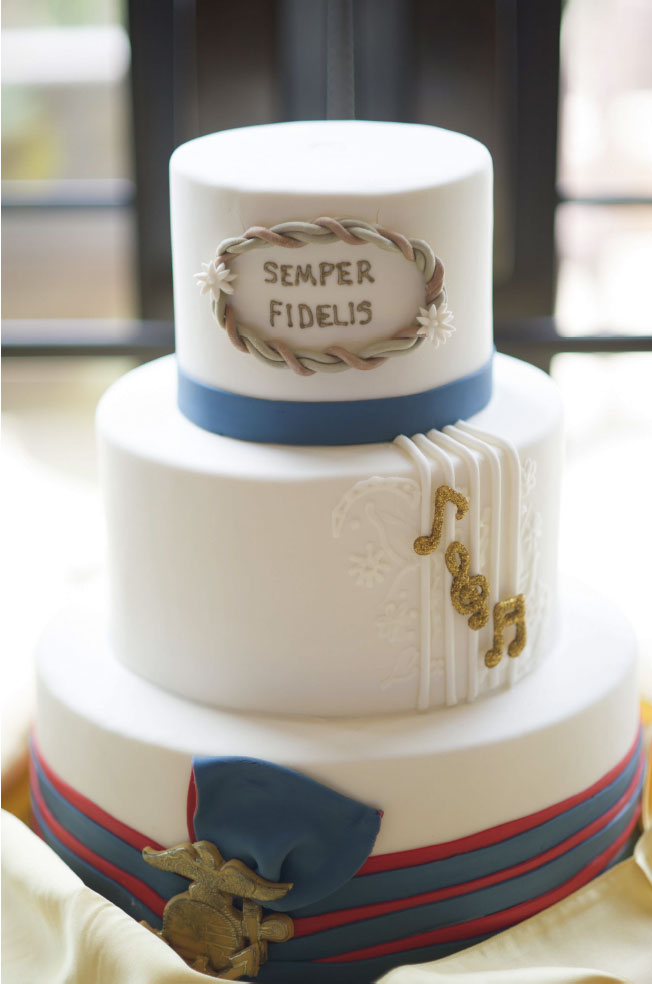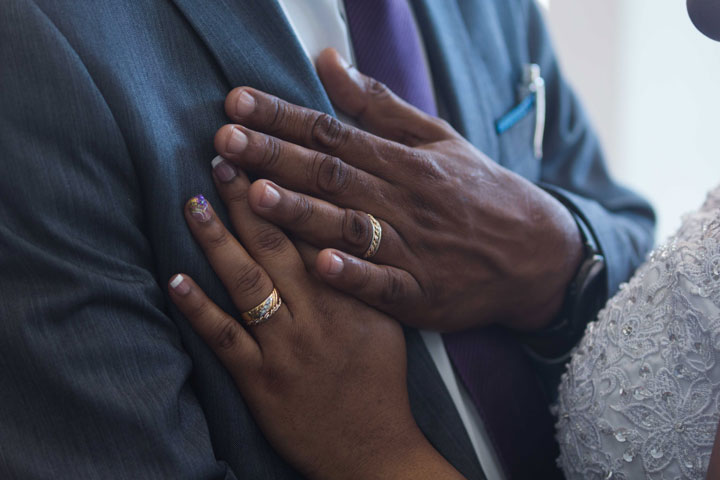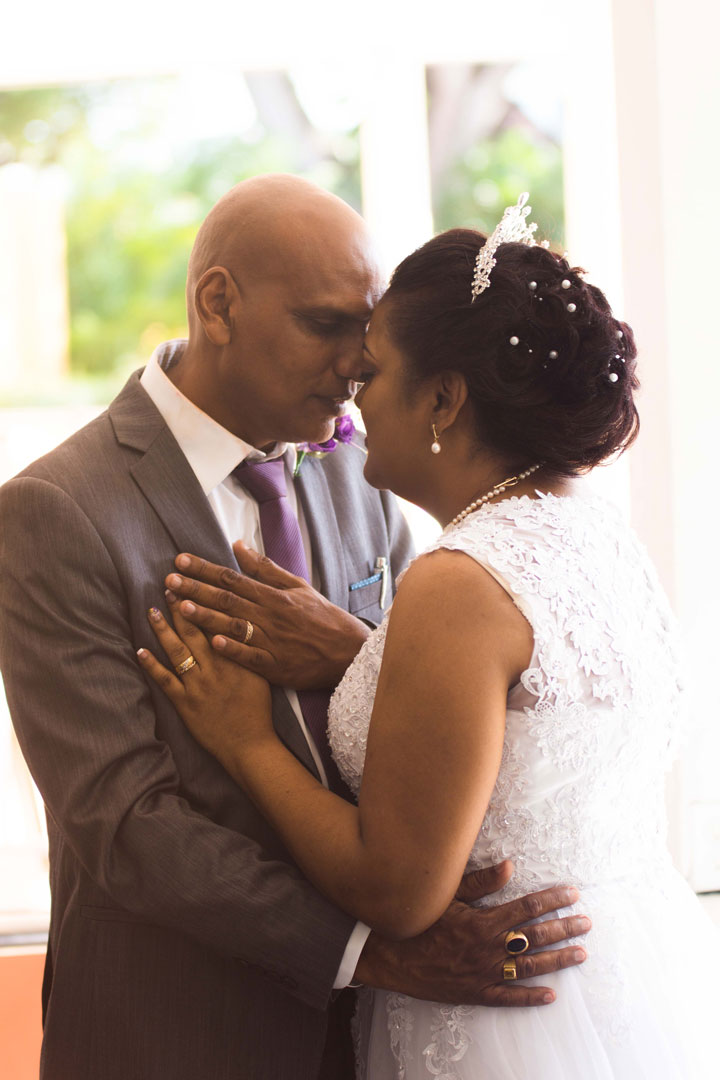 "We knew God brought us together and we knew we were meant to be together from the day we met. Our wedding took place in Georgetown, Guyana on October 21, 2017, our friends and family were happy to join us for this union.
Our theme was a 'Three-Fold Cord' recognizing that we needed God to wrap us in this union. During the planning stage of our wedding, I came upon Todd Allan rings and was elated that this was such a perfect match to what we wanted to be expressed. Hence our first purchase was, of course, our rings. They arrived in a beautiful box and were just perfect for the journey we were about to embark on; confident that God was wrapping us from day one.
Unfortunately, on February 24, 2020, my husband of just over 2 years passed away, while I am now a widow these rings and what they meant and the commitment they held were made possible by Todd Allan's commitment to excellence. Love is beautiful, marriage is blissful but life is fragile. Love will always prevail.
Thank you, Todd, for making these beautiful pieces for me and my husband.
Please feel free to share the photos of our wedding and the rings and my story. I pray that it will encourage other couples to cherish every moment of their union and time together." -Celicia
I hired a detective to find todd alan...
"I never took into consideration about what my wedding ring would be. My thoughts were all about finding one for my future wife. After she said yes, she asked what kind of ring I wanted. All I knew was that most men get a traditional gold band when they get married. But I asked myself, why be traditional now? If I chose all of my tattoos to be one of a kind, a ring that I will be wearing forever should follow that standard too.
One night, I began randomly looking up different wedding rings online through Google's image tab. I came across one of Todd's beautiful rings and froze. This was it! Clicking on the source, I was taken to Pinterest. No name, no company, just an image somebody saved on their board.
No matter how many different ways I could word the description of Todd's ring, that same one kept popping up for that dang Pinterest board.
It's time to take it to step 2 and call in my expert source of tracking; aka a Detective, aka my brother.
Calling him up, I told him it's time to live up to the name "Best Man" and to track down this ring. Through reverse image discovery (which I learned it took him to websites all around the world), he finally ended up on 
www.handwovenbands.com
. Bingo!
I'd say he earned his title.
I called the shop and spoke to Lyra (groovy name and awesome personality). She informed me about customizing, and a one of a kind idea began to form in my head. At the time, I possessed my late grandfather's traditional wedding band. My grandparents always held a special place in my heart and were one of the few people that I know stayed with each other until the very end. To me, his band symbolizes the true commitment of marriage. I thought, what if I used this sentimental gold band to be put into my ring? After sharing my idea with Lyra and Todd, they were happy to accommodate. It has been 3 years and I still get many compliments on it! Thank you both so much!" -Brandon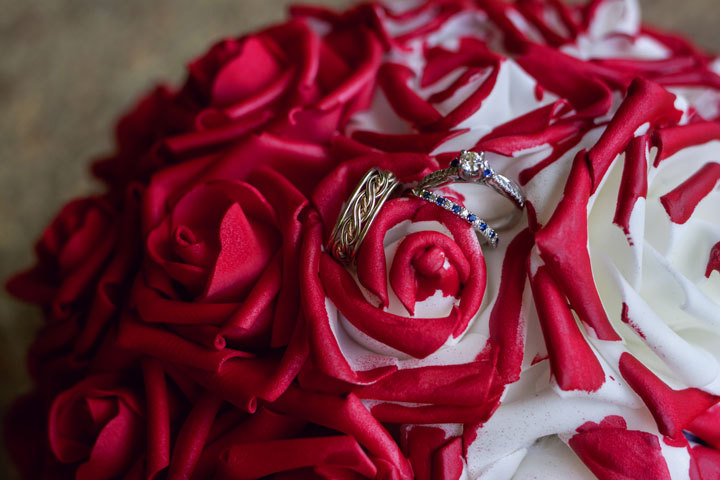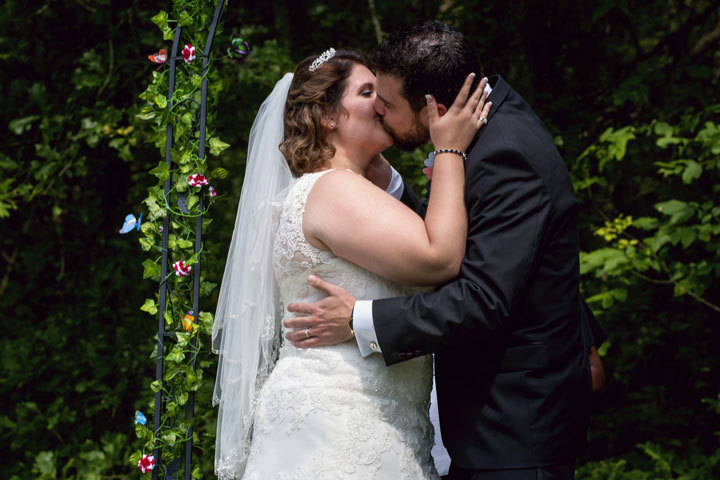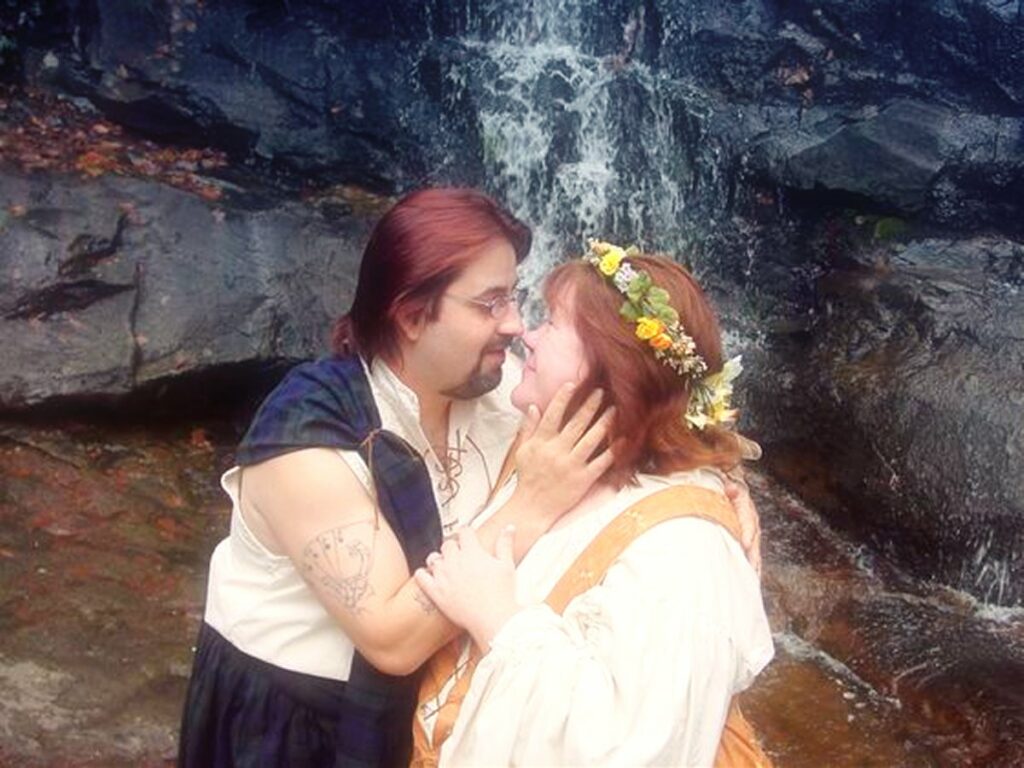 Please let me start off by saying thank you for taking the time and lending your craft to create our rings. We have shopped and searched for the rings that will become us, but to no avail until we found you. Our search is now complete and we have asked you to be a part of our journey and union. But before you use your craft to create magic, please allow me to tell you about us, so that our story may guide your hands.
I am William and my mate is Kathy, both of us has had a trouble life with heartache, break ups and gallons of tears shed in misery. All of which were for preparations for when we found each other again and our misery being for not having found each other. We have lived many lives before and in each we have been together and each time we have had to prove ourselves worthy for each other. When we found each other we both knew our lost souls were found and the lover through time were home where we belong again. Each day our love grows stronger as we make up for lost time, and everyday being stronger then the first day we met. The rings you now create will be a symbol of our endless love and intertwining lives we have and will share in the future. Your work will be beautifully represented for all the world to see when Kathy and I bind our souls on the sixteenth of September of this year. The picture I am including I hope will further guide you, maybe inspire you.
Sir, thank you so much for this and please thank your wife for sharing you with us.
William Lewis and Kathy Lindsey
" 2009 started out with uncertainty for two 32-year-old red-heads living separate lives on opposite coasts of the United Stated. Dan was preparing to leave everything he knew in North Carolina to help build the new US embassy in Sarajevo. His dad was already there, reaching out from overseas to save Dan's life. His life was off the rails, and he knew it, but he didn't know if leaving would really change anything.
Joyce was in her second-year teaching Spanish at a private school in Oregon and had voluntarily switched from full-time to part-time in the fall when the recession hit. Odd jobs helped supplement the loss in income. Although she never had a boyfriend, she had joined an amazing group of friends when she had moved from Idaho for grad school; the kind of group most people only dream of: they studied, ate, hiked and played together. 
July
Joyce finished out the school year but was not invited back. Being let go from her first teaching job made her very disillusioned. Was teaching really for her?  Before going to grad school for teaching, she had been a teacher's assistant in an English Language Learners classroom back home in Idaho and discovered her passion for helping students understand. Silvio was one of her favorites. His father and mother had come to the US from war-torn Yugoslavia and became friends of Joyce's family. As Joyce was trying to figure out next steps, Silvio's mom, Ankica, called. Her father had died and she needed to go home to Sarajevo to pay her respects. Would Joyce travel with Ankica and Silvio?
In the six months he lived in Bosnia-Herzigovina, the only change Dan had committed to was praying. He hadn't tried to do anything else to clean up his life, just talking to God. His cook had forced an unwanted change on him. He stayed with a group of overseas workers who worked 12-hour days and had their meals prepared for them. Nikolina had set out salads one evening as the guys drug themselves in from the construction site. Dan had never liked salad and politely let her know he didn't eat it. "You no eat salad, you no get dinner," she stated in broken English. But before she could take away the plate, Danny quickly surrendered. "Well I guess I eat salad now."
Nikolina and her boyfriend met another American that summer: her boyfriend's sister, Ankica, had come home with her son Silvio and American friend, Joyce. While staying with and meeting Ankica's family, Joyce practiced the few Serbo-Croatian phrases she had learned. Nikolina wondered that Joyce was neither married nor dating anyone. She had an idea.
Nikolina told both Dan and Joyce she had someone the other should meet but gave no details besides the time: the evening of July 27th. They actually thought they were meeting Bosnians and weren't sure how the language barrier was going to work. Ankica's family drove Joyce up to the complex in which Dan was staying and took their seats on an outdoor patio. As the setting sun reflected off the mountains, Dan joined the group and seemed comfortable listening to the unfamiliar language. Dan's smooth southern accent made Joyce's heart beat a little faster. Dan thought Joyce's hair was beautiful. They had similar opinions and enjoyed each other's company. At the end of the night, Joyce left wrapped in Dan's winter sweater with his cellphone number.
Over the next two weeks, their paths kept crossing: for lunch, to play pool, a walk through downtown, dancing, a movie and finally, dinner to meet Dan's father. James watched them eating off of each other's plates and told them it looked like they had been together for years. But Joyce was going back to the US and couldn't help but realize this was just a fairytale. She couldn't think straight with Dan. He'd gone so far as to take Joyce's journal and write that he was falling in love. Joyce couldn't see this lasting but was worried about how attached Dan was. On the way to the airport, she said she couldn't accept the silver Bosnian ring Dan held out. He just smiled and said, "I'm not giving it to you, I'm asking you to keep it safe for me. I'll just lose it."
The next six years could fill several books. Dan worked for a few more months overseas, then moved back to North Carolina. He visited Joyce a couple times and they claimed, "God Gave Me You," as their song. Dan's own demons forced them apart for a time, but miraculously, he faced them and humbly overcame. Joyce found another job but left it after two years to move to a town near Dan and his family in North Carolina. She visited them often and was warmly welcomed. Four years into their love, they moved to Idaho for Dan to get to know her family. And after a year and a half, they were planning their wedding. 
Dan and Joyce kept thinking back to their unexpected meeting and ways they kept coming back into each other's lives. Two people, with little in common, living on opposite coasts, met overseas in a very unfamiliar place. They knew God was the strand drawing and now binding them together. "A cord of 3 strands is not easily broken," Ecclesiastes 4:12. As Joyce searched for rings and ways to express this truth, she found Todd Alan Studios and a perfect ring set: two different strands of white and rose gold bound together by the gold "God" strand. Simply perfect.
On August 5, 2015 they exchanged the rings and symbolically braided three ropes together: Dan and Joyce braided together by God.
The Family Represented with Every Strand
"We will keep this short and sweet but you have no idea what a great compliment to our story your rings are.
Jim and I are were married after a whirlwind romance. We both have been divorced and took a chance on each other. Jen knew early on that Jim was the one, while Jim took a bit longer to get on board.
Jen was a single working woman who was not able to have children, Jim a divorce with three kids 20, 17 and 12. We both shared a deep faith and were amazed at our story and how it was woven together. Nothing was by accident and all clearly a great design and plan. From commonalities to plans for our futures, we just knew this would be the great loves of our lives.
So as we neared our wedding day, we began to look at rings. We determined we wanted a woven band of some sort, since we liked the bible verse, a Cord of three strands is not easily broken.
But then we found Todd Alan online. We were so excited at what we found. And just like the rest of our story we found something symbolic and perfect.
We got a tri gold 5 strand weave. Jim, is the middle strand keeping us all together. The kids and I are the accented braids creating a strong bond and a complete family we thought we would never have.  And we are hemmed in by outer bands, which is the Lord that binds us all together.
We did not realize it at the time, as this was our hope. But 2 and a half years later, we are going strong, the bonds are deeper than you could imagine and we would not trade our crazy life for anything. We get a lot of compliments on our rings and gladly tell people where they came from. And the story behind it.
Jim and Jen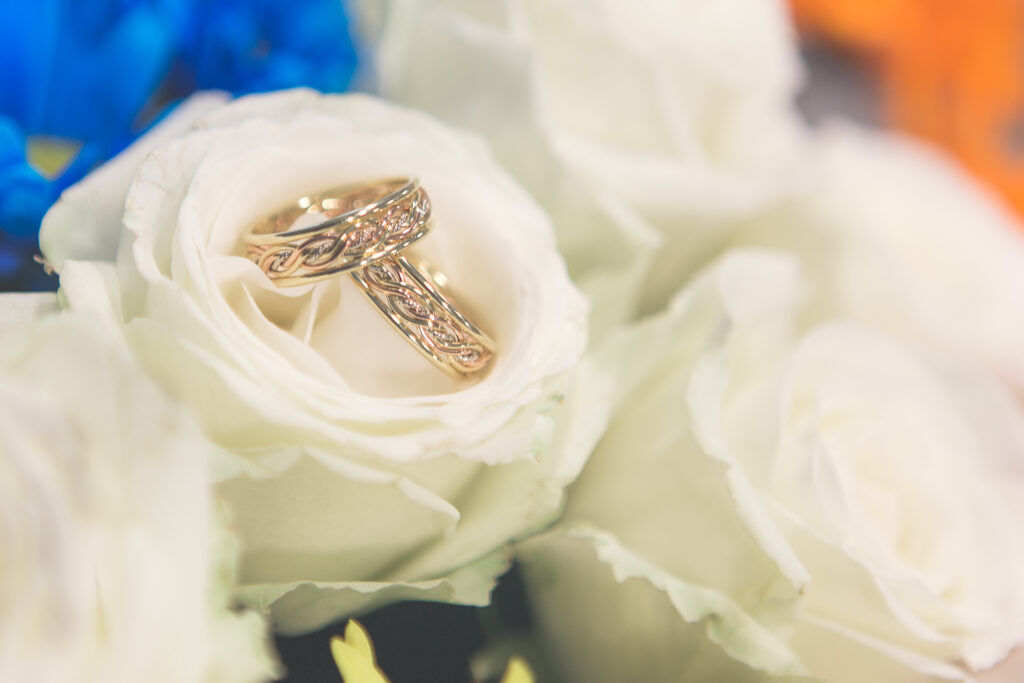 We were looking for something truly unique for our commitment to each other. We were led in finding that with Todd Allen. Our rings were especially made, for us, so there's not another set like them. They magickally represent all the elements and aspects of us. We get many compliments to this day and are so pleased with our choice. We know we made The Best choice and we'd make it again and again hands down.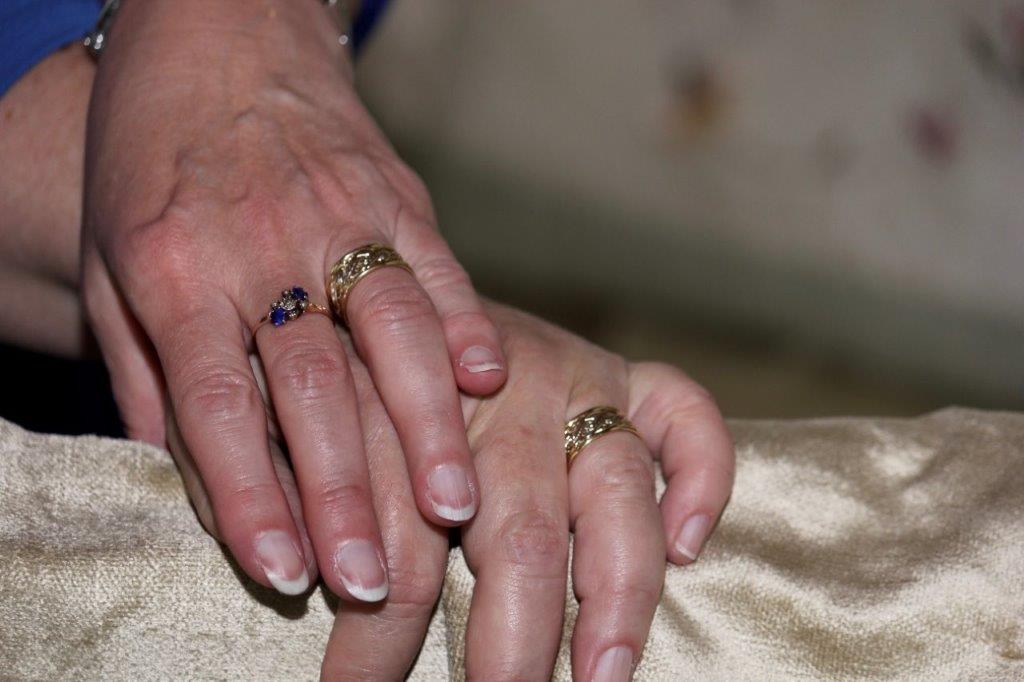 When we were planning our wedding, we had an idea of what we wanted for rings. Charlene (on the right) found your website and I knew immediately that we had found "it". We have the same braid in both our bands. They are simple yet elegant, beautiful but they don't ever get in the way. Consequently, they never come off! We love them. Thank you for adding to the perfection of our wedding four years ago.
Ellen and Charlene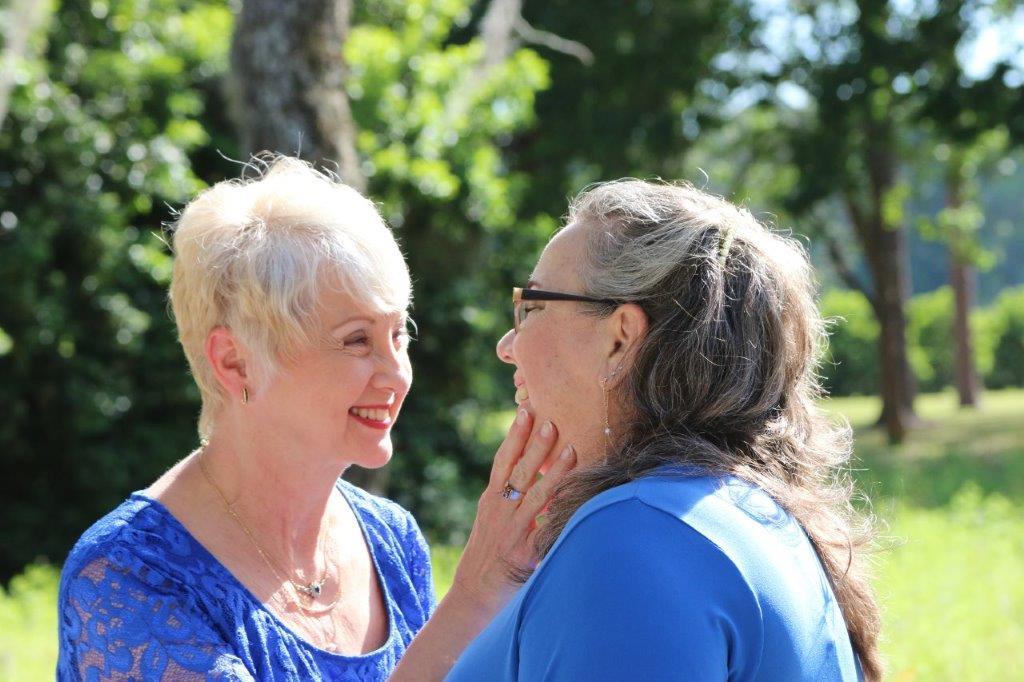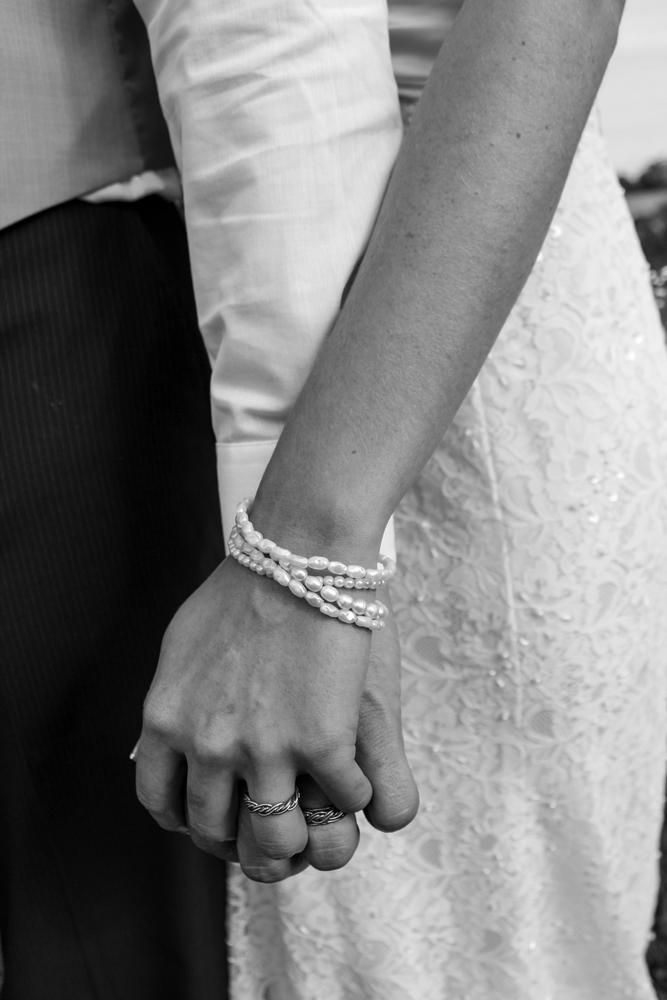 From the time I was a young girl, I envisioned having a braided wedding band. I was inspired by the verse, "Though one may be overpowered, two can defend themselves. A cord of three strands is not easily broken." – Ecclesiastes 4:12


When my (now) husband and I approached engagement, I shared my desire with him and we found Todd's hand woven bands.
Although the only close-up picture I could find of the bands on our wedding day is black and white, one outside band is yellow gold, the other is rose gold and the middle strand is twisted white gold. For me, the two outside bands symbolize my husband and I, intertwined around the twisted white gold (Christ) which is more distinct (being the only twisted cord – complex, and beautiful) from us. It is the goal of our marriage to be be centered around Him and I adore that our rings are an ever present reminder of that truth.  
Thanks for letting me share!
Sincerely,
Rachel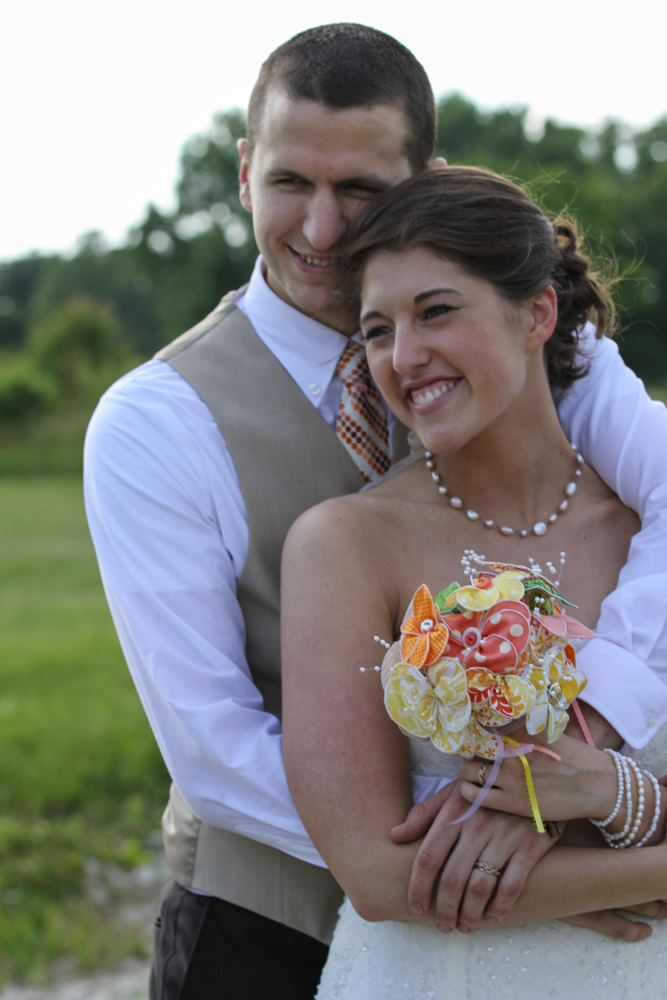 John and I were talking about how much we still like our wedding rings! They are so light and have stood the test of time ( 2 years), not changing their shape or looking worn in any way. We love the uniqueness of them and the fact that they match. The 3 strands have special meaning to us, God binding us together. Thank you for creating such a wonderful keepsake for us! Attached please find some photos. May you and your business continue to thrive!Warm regards, Claudette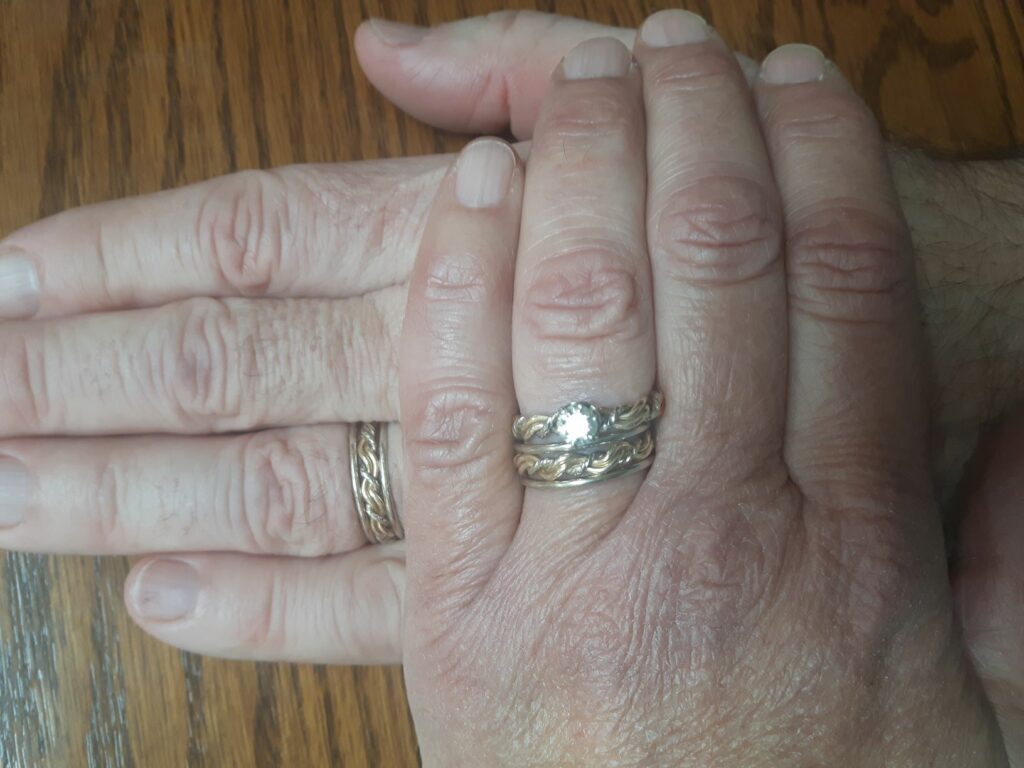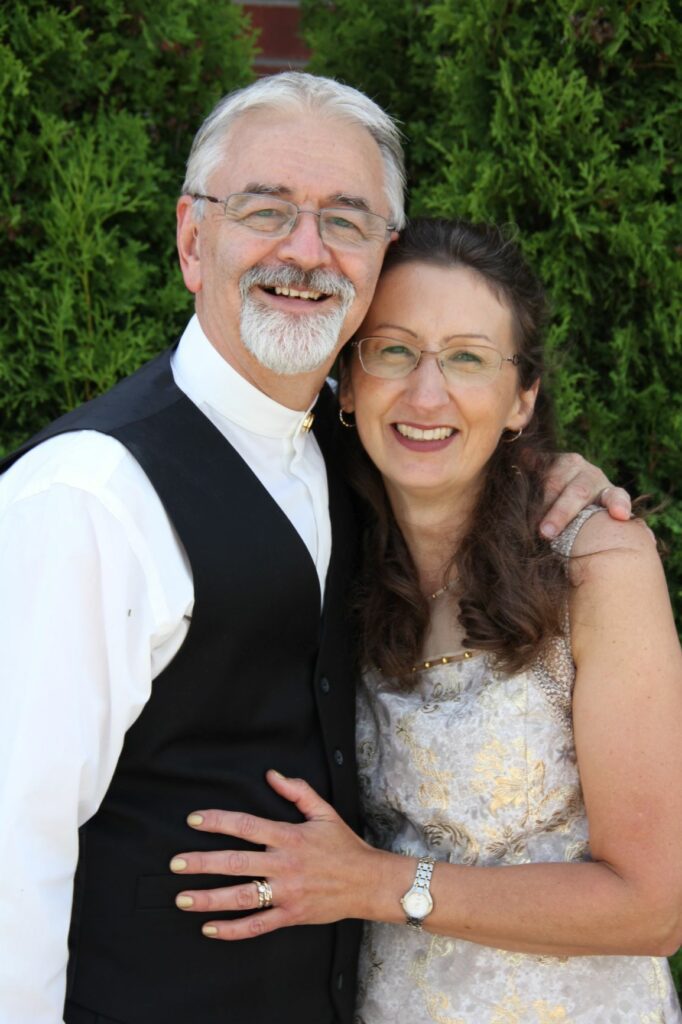 Kate and I both love the Lord and both were in bad relationships prior to meeting. Neither of us were looking for a relationship but we meet while serving on missions. We were drawn to each other by our love and commitment to God. Our rings show that God is truly the tie that binds us together. 
We were married in August of 2013 at a small ceremony in Portland, Oregon. We actually used one of your woven bands as my engagement ring, because our wedding bands are family heirlooms on my husband's side dating from their first use in 1887 (by his great-great grandparents). I'm attaching the three photos I have from our wedding that best show your beautiful ring. We opted for one of your woven bands as my engagement band because I wanted something with silver and gold together; your woven bands were the perfect option.
I'm also attaching one of my favorite shots of us from our wedding day for your use on your website. Thank you for your artistry!
Erin and Donald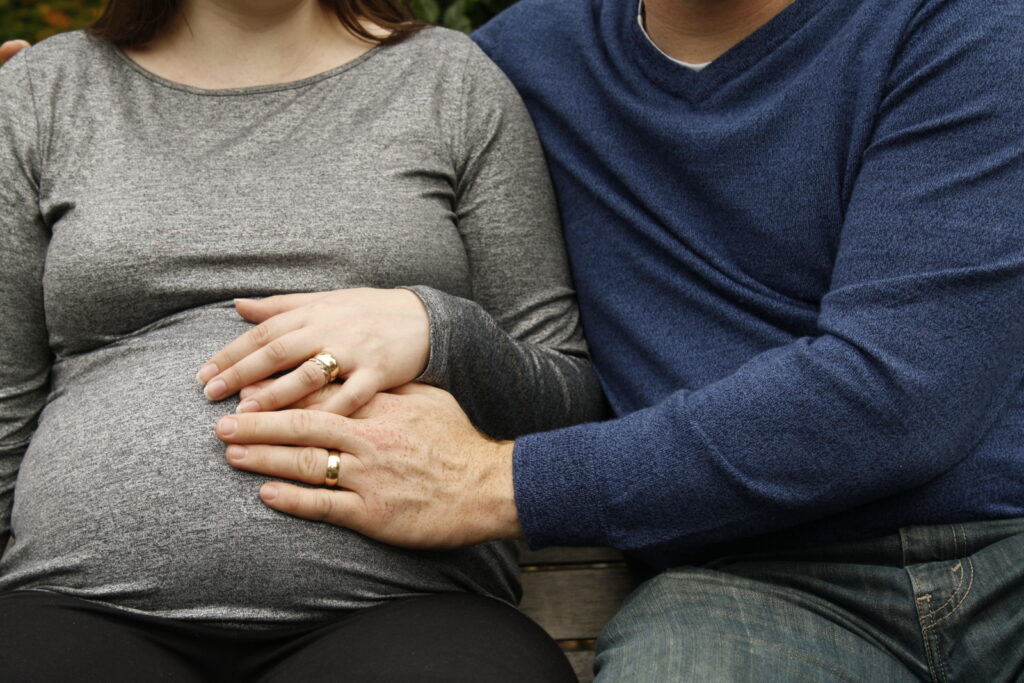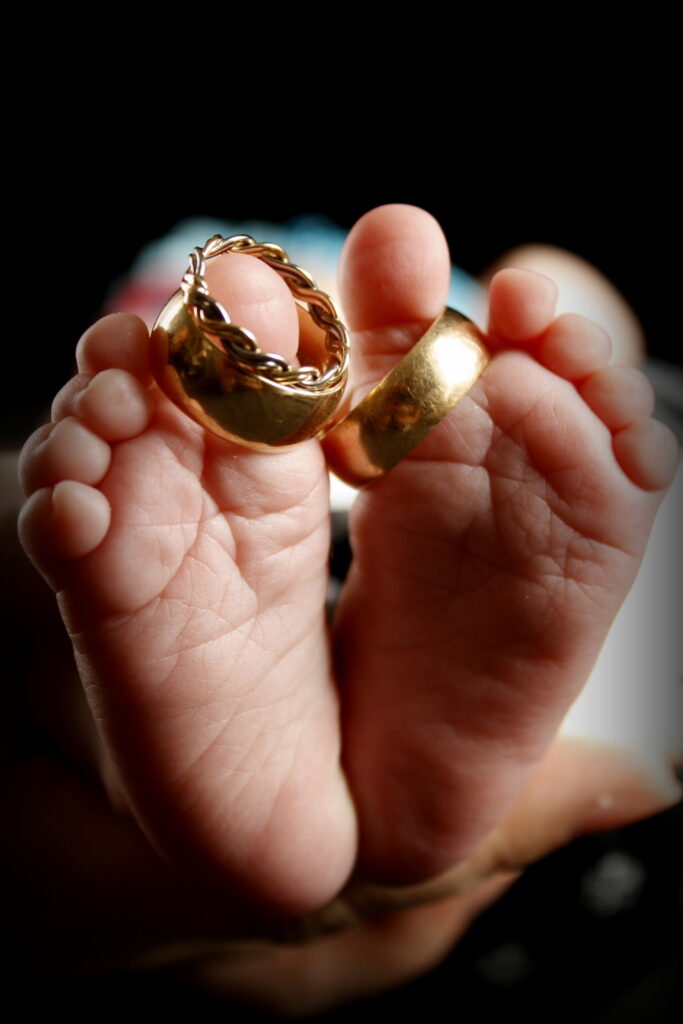 George and Gwen's Jewelry Story
As an engaged couple looking for unique and yet traditional wedding rings on the internet, we came across Todd Alan's website – perfect!  We could see the simple elegance and practicality that matched our personalities, so, in order to make sure this was the right move for us, we made plans to fly from Sarasota, Florida to Athens, Ohio where Todd then had his displays and workshop.
We could see the artist in him and his attention to detail as well as the personal touch of finding out about us and our lifestyles.  With that he made suggestions that all helped.  The thicker gold strands with strong platinum edges made the right look, fit, and strength.  He also told us about how he hand braids the long gold strand that becomes both rings – a nice symbolism mentioned in our 2014 wedding.
Still very happy with our rings and with an anniversary on the way, we received a note about a Christmas special that came with a big surprise.  Lo-and-behold Todd and his daughter, Lyra, had moved to Sarasota, Florida, only 5 miles from us!   Since then, we have repeatedly visited, and Todd has made matching style earrings, a pendant and a bracelet that he personally fit and adapted for me.
Great service, beautiful jewelry, and matching pieces that reflect our personalities!  What could be better!!!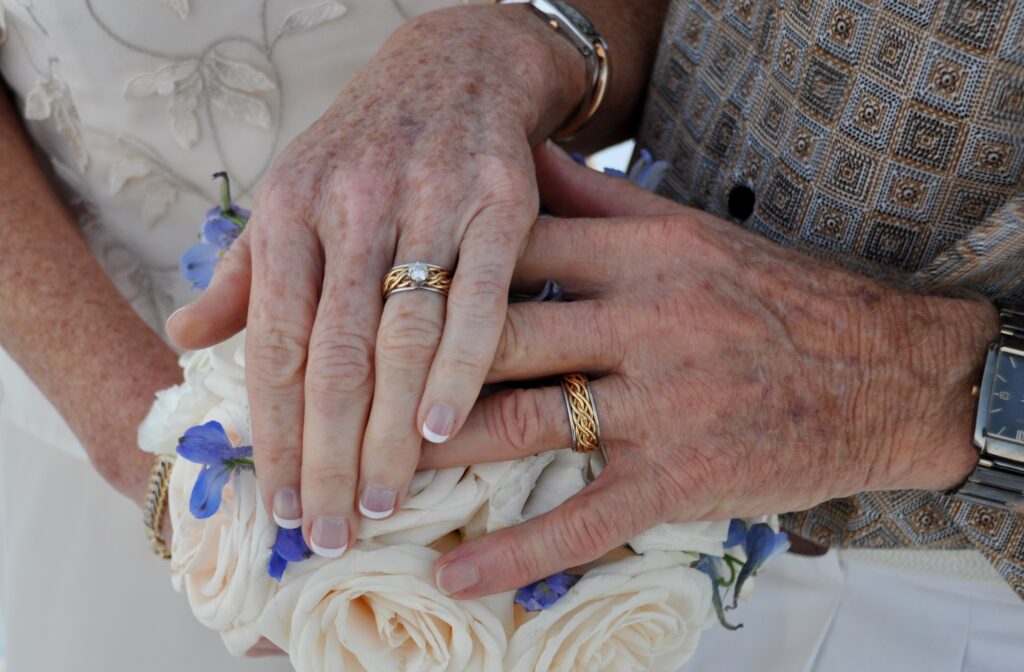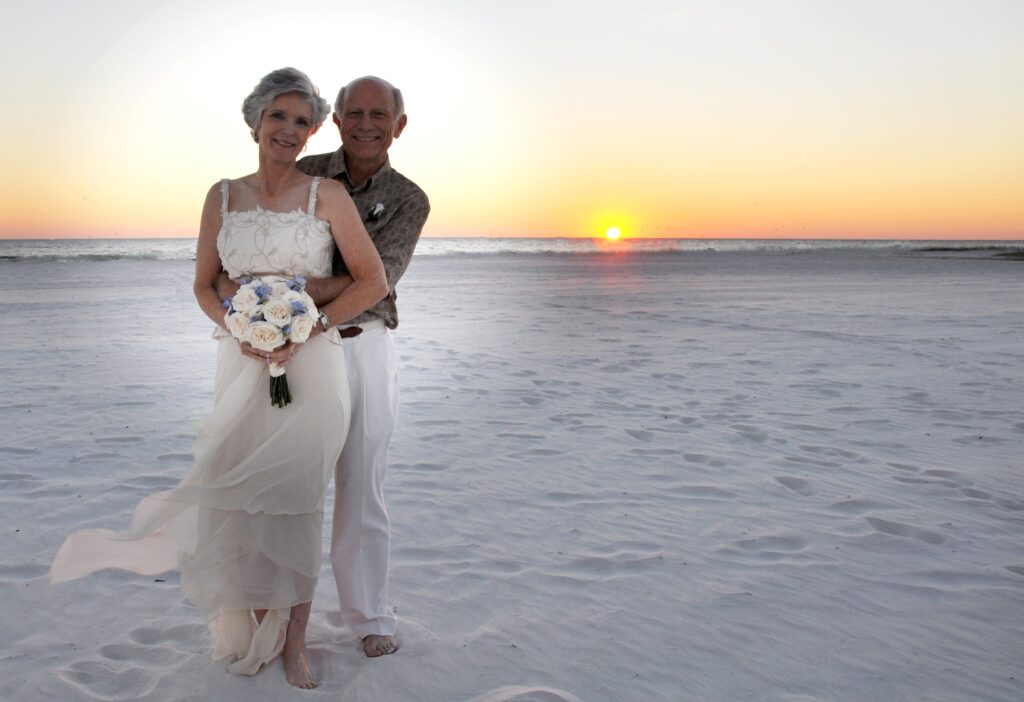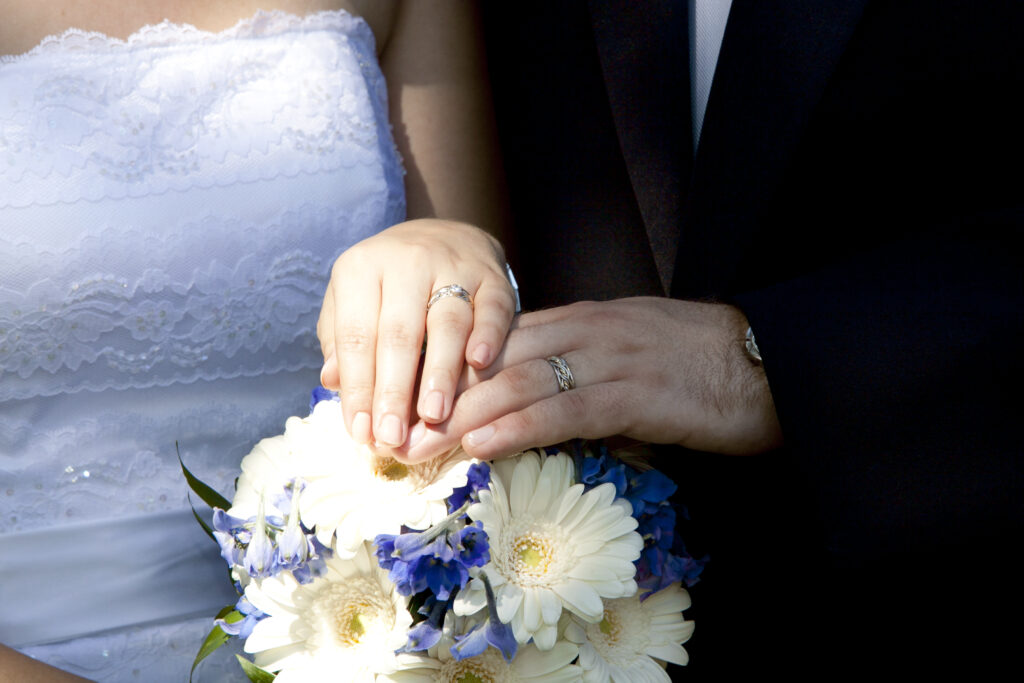 You made engagement/wedding bands for my husband, Brett, and me, Julie. The diamond in my engagement band is from my mother's engagement ring. We were married July 20, 2012. One of the things that my husband and I enjoy doing together is attending renaissance festivals and appreciating all of the handcrafted items and performances. We feel that your handcrafted wedding bands are a perfect addition to our life together!
Thanks again!
Peace,
Julie
Hello! Sofia and I are happy to send you pictures from our wedding to showcase your rings. A few weeks from now will be our 10th wedding anniversary, how time flies!
When we were preparing for our wedding Sofia and I really wanted something meaningful to us for wedding bands. We looked at a lot of designs but when we saw your braided rings with the two metals intertwined we instantly knew we found the right rings.
The symbolism of the yellow gold (Sofia's favorite) and the white gold (my favorite) joined together into a beautiful braid and then crafting the two rings from that…just perfect! The person performing the ceremony wove that symbolism into his speech beautifully. It really made our special day that much better. Now almost 10 years later we treasure our rings and they are just as wonderful as the day we first put them on. Thank you so much!
We have included a few pics that our wedding photographer took, feel free to use them however you like
Kevin and I met in highschool. I liked him and he liked me, but a mutual friend liked me also. The friend told each of us that the other made fun of them and didn't like the other. We never connected. Years and years later, I called a different mutual friend and he happened to be there. All of the people there knew me and told a funny story about me. He realized he didn't have a story.
He called me and we set up a day to hang out with another friend. The friend didn't show up! That was our first date! We fell in love and became engaged a few years later.
When it came time to look for an engagement ring, Kevin went to dozens of stores and searched online. He looked everywhere and could not find something he felt represented his love. Finally he found Todd's page. He made the perfect rings that matched our beautiful medieval wedding.
Thank you!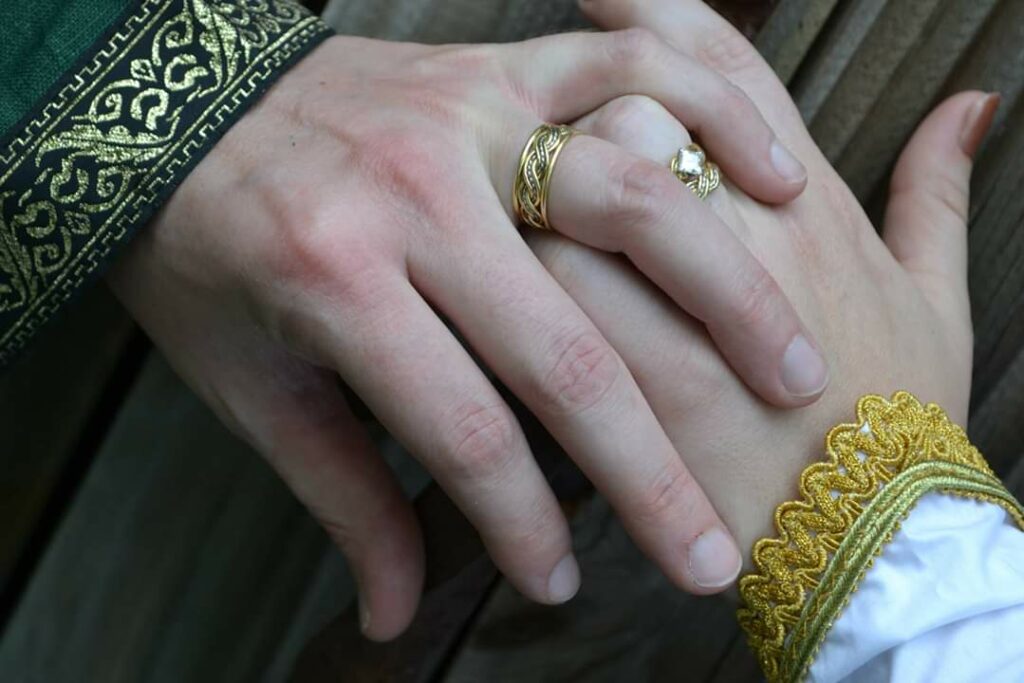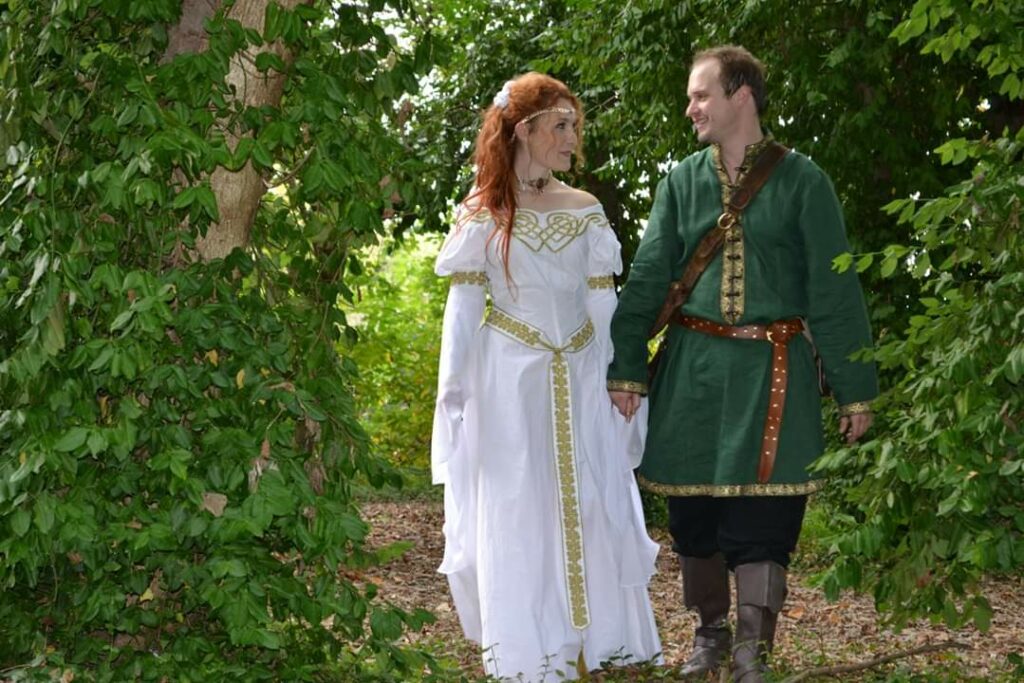 The story behind the design.
The two outer bands represent Me and Steve
The two entwined center bands represent our daughters
The gold twisted center band is the eternal circle that joins and will hold our family together.
The heart represents the love of our Family
It was exactly as we had wanted and more than what we expected.
Our Story
Him : Steve – single man with one teenage daughter (dob: Feb 1992) – never married.
Her: Dj – single woman with of a teenage daughter – (dob: Oct 1992) – divorced twice
We met on the internet he was a man looking for a lady to spoiled and likes fast cars. I had a 1992 25th
anniversary limited addition Camaro and was a lady looking to be spoiled.
For the first month all we did was send messages back and forth through the dating site. He ask for my number,
me unsure of anything anymore wasn't really keen on the idea but provided it to him. He text, I text back – we
really enjoyed talking with each other, shortly we began to talk with each other on the phone, and could tell there
were feeling starting to form. We shared picture for the first time.
After two month, I thought well if this is going to work out lets not invest anymore time on the phone lets just
meet. I was gun shy because I had low self confidence and didn't really think it was going to work out. So we
agreed to meet after two months of talking and texting.
On May 5, 2011 I drove my "fast car" to Marietta, Ohio and met him. We had dinner – shot pool and had a
really good time. We made plans to meet the nest weekend. I never got a call about when and were and didn't
hear from him for over a week. SOOOOO, you know where my mind went.
Late Sunday night he called and apologized and said he wasn't blowing me off that he really did want to see me
again. He had got to Newton, WV to spend the day with his daughter and got caught there over night and didn't
have cell service so he was unable to call. He is an amazing father.
We continued to talk daily, I introduced him to my daughter in June – and she is like "mom you are dating a
umpa lumpa" – (LOL) He is a not a tall fellow. Things were going well. Then one day in October as I was
leaving Marietta to go home he called to make sure I got there safe and said "It is getting harder and harder to
watch you drive away on Sundays."
Right before Thanksgiving we moved in together. One night as we were sitting watching TV he asked about
how I felt about getting married. I had said over and over again I would never get married again two failures
were enough. This was our conversation:
Him: Ever think about getting married
Me: NO
Him: why not?
Me: Okay, you know my past. You are 45 years old you have never been married and now you are asking me a
2 times divorced woman to marry you, why?
Him: You don't lie, you don't drink, you don't do drugs, you tell people the way it is and if they don't like it you
show them the door.
Me: You love me because I'm a B***h?
Him laughing – yeah I guess I do
Me: and I don't have to change?
Him: why would you? Then you would be be lady I fell in love with.
Me: Okay then, let's do it.
September 29, 2012 we were married and have been going strong ever since.
He is my Knight in Shining Armour, a bit tarnished – but he is mine and I am his.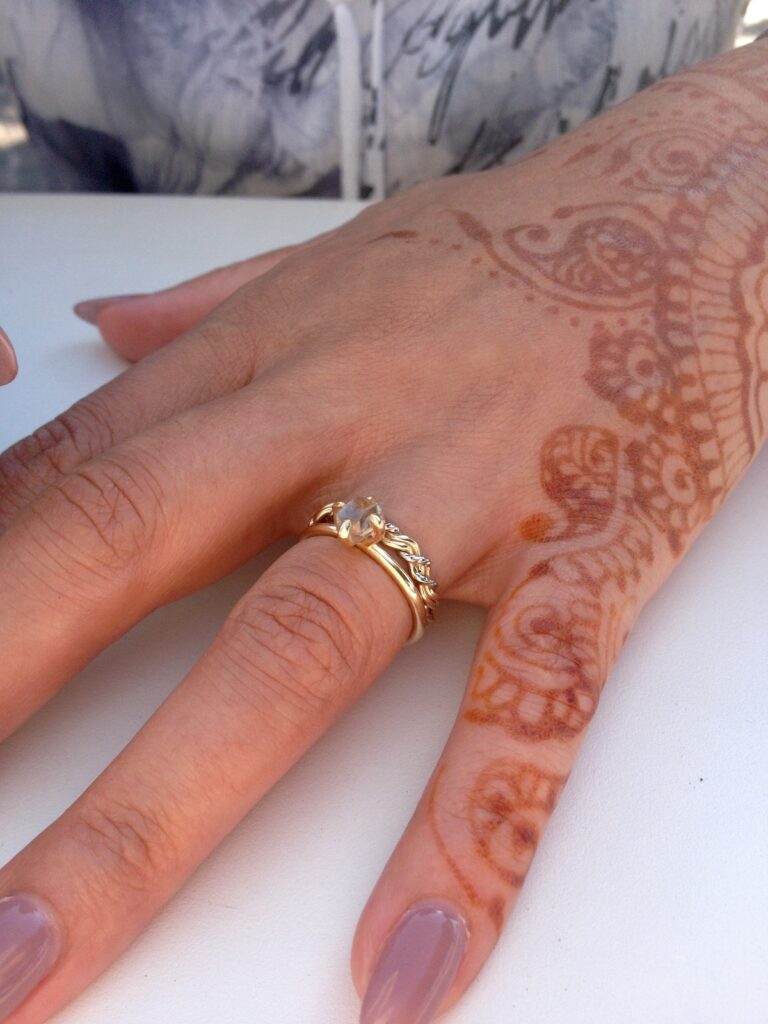 Entwined in Each Others Lives
Here is a photo of my wife's band along with her uncut diamond engagement ring. Both reflect what we saw in each other. 
The engagement ring – the willingness to accept each other without changing  anything.
The band – the two of us entwined in each others lives, side-by-side bound together by our love.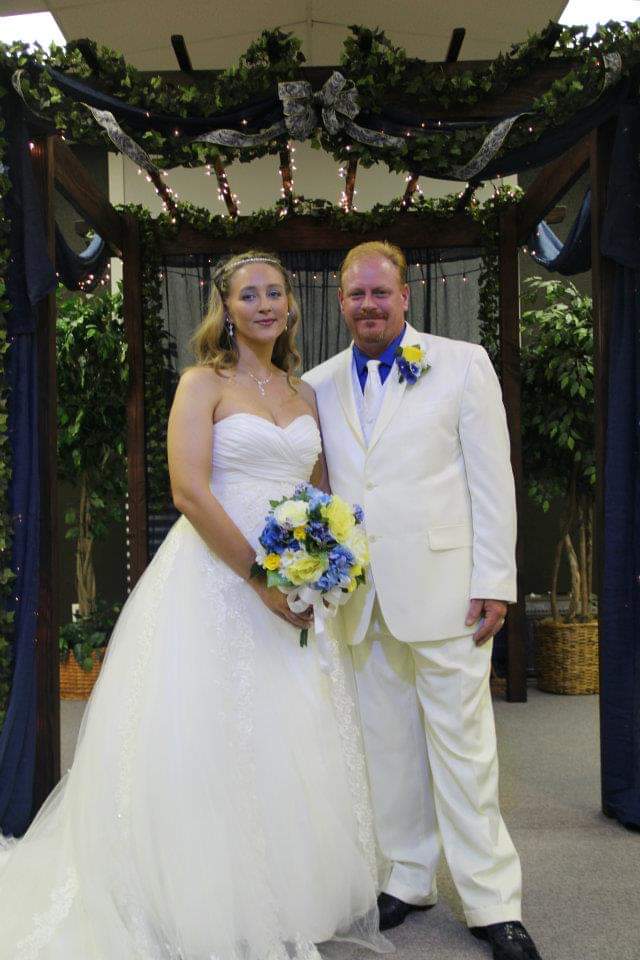 Our rings are very special to us.  Just as I'm sure everyone else's is to them.  They were also a great point of stress at a very stressful time (wedding prep).  Despite the double eye twitch that I ensued at the very mention of the "W" word, we were determined to find THE perfect ring. Hours upon hours of online searches to searching any and all shops with jewelry. No luck.  There were some that were close to what James was wanting or had envisioned.  In my online searches there was one that was fairly close and I kept bringing it to his attention. As always, he would dismiss it and tell me to keep searching.  Something kept telling me to dig deeper into this web site that the ring was from.  There it was my answer.
As our time was running out, our big day fast approaching, I saw these tiny little words… Custom work available.  That was the best news at that time I think I could have ever come across.  With James' reluctancy, I made the call.  I spoke with Todd about his work and what James was wanting for our rings.  Todd informed me that what we were wanting would be no problem.  Once we received them, James wouldn't let me show them off.  To nobody.  Not until we said "I do".  
We have gotten so many compliments on them over the years.  I love to tell everyone they are hand made by Todd at Todd Alan Studios.  They truly are a valued treasure.  They symbolize how our lives are intertwined together, forming an inseparable bond. Reminding us daily of our love together.  Through every high and low, good time or bad. 
Thanks for blessing us with your remarkable talent.
Sincerely,
Teia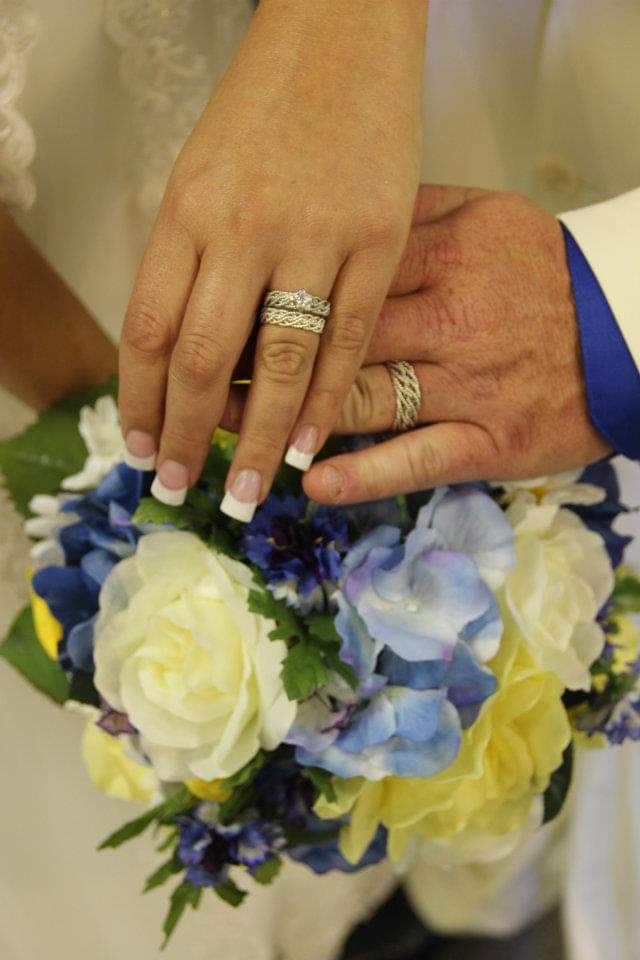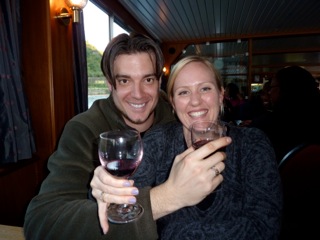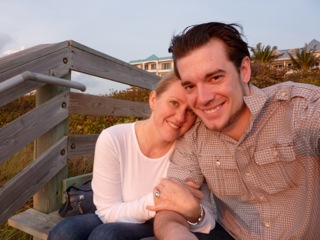 Our Fantastic Re-Union Story
Our story begins in 1997 when my husband and I fell madly in love at first sight when we were 19 years old.  We lived together for about a year before Kevin joined the Navy.  We had to separate, as I was not able to leave my hometown then.  Devastated, we carried on with our lives apart, lost touch, and married others.  In 2010, I finally received a phone call from Kevin who was living in Germany at the time.  I very quickly packed my bags and moved to Germany to be with my one true love. 
After so many years apart we were even more connected, and found that we shared so many common experiences while separated.  Three months later we quickly married and continued our adventures through Europe.  Being artists, we wanted one of a kind unique handmade wedding bands and were so blessed to have found Todd Alan during a web search.  We have now worn our beautiful matching bands during our many adventures throughout Europe, always receiving comments on them from the people we meet along the way.  Our wedding bands remind us every day of how important it is to take a chance, follow your heart, and trust.  You never know what life is going to bring.  We continue to stay flexible, adventurous, and open to all of its wonder.
Sincerely,
Kevin & Meghan
Rings Not Stamped By a Machine
"Todd, Our wedding rings means so much to us and daily remind us of so many things.
Jean and I met only a few years ago, each having been previously divorced. We found ourselves hopelessly in love, and began work on taking our two families (I have 3 children, Jean has one) and joining them together. When we looked for wedding rings and found your woven bands we knew we'd found rings that would daily remind us of our new life.
Our rings are made from a single strand of platinum, reminding us of the unity of our new life. We are forever part of each other. One life lived together. The way they're woven is with four inner strands weaving back and forth – these are our four children, together now in one family. The two outer strands are Jean and I – parents keeping it all together, providing boundaries, protection and care for our children, for our new family.
Our rings are not stamped out by a machine, they're lovingly hand-crafted, with interesting differences, reminding us that we're not perfect – we have our 'interesting differences'. And lastly, our rings are strong and enduring, like our love for each other. Even beyond our brief lives, our rings will last, as will our love, through the lived-out lives of our children and Lord willing, our grand-children.
We love our rings and often get comments about them. Thank you, Todd for your skill and craftsmanship.
Forever Together Even When Apart
"Hey Todd,
We found you after looking everywhere for braided rings in Australia.. no-one had anything that we liked, they were either too huge and gaudy, or weak hollow things. As soon as I saw your masterpieces, I knew we didn't have to look anymore for our wedding bands
It was just so perfectly romantic- rings made from the same braid, to forever join us together, even if we were apart we would still have that to look upon our hands. Our wedding had a Celtic/Medieval theme: my husband James wore a kilt, chainmail armour and a sword on his back. I wore a full length, long sleeved purple gown and a matching cape, both had silver braid along the edges. The rings fit in perfectly with everything, having woven bands, so very Celtic. We had a Quaich ceremony (otherwise known as a 'loving cup'), we drunk wine from the bowl, and our parents also took turn to symbolise the joining of our families. We then had a handfasting, which we used my handcrafted braided rope to 'tie the knot'. Another tip of the hat to our rings. Afterward we had a fantastic reception with all of our guests, and ended the night with a bang, we had fireworks! 8 months later now, and I remember our wedding day and night near perfectly just by looking down at my left hand. Thank you so much for making our rings, we couldn't have had such a perfect day without you.
With much awe and thanks,
Tamara and James
"My husband and I have wanted matching wedding bands for 27 years!  I realize  the time frame in which we ordered our BEAUTIFUL matching bands was short.   You really have been our ANGEL by making our dream come true!  
Our rings  were under the tree before Christmas.  On Christmas Eve we usually open one  gift before going to Candlelight service……..needless to say we opened  the rings and wore them  to church.  Everybody who has seen the rings are  totally "blown away" by the beauty and craftsmanship.  
All those friends and  family were given your website to explore.  You have truly answered my  greatest wish and we are thrilled with the rings.  Thank you so much from  the bottom of our hearts. 
Sincerely,
Bonnie  & Roger 
"Karen & I wanted to drop you a quick note of thanks.  We can't thank you enough for crafting our rings so quickly and getting them to us by Christmas.
  We have been talking about rings for some time now and knew the minute we saw yours that these were the ones.  We opened them Christmas morning and this gift to each other was more than either could have imagined.
Awe Inspiring:
When I look at my beautiful wedding ring I remember the day it arrived. I was in Wisconsin working on getting my fiancée moved out to Colorado.
The day they arrived I had been very home sick and missing my fiancée, as he was at work every day, often leaving before I even woke up in the morning. When our rings arrived my mother called me to tell me I had a package. She read me the sender address and I felt my first smile all day cross my face. I immediately told her to open it and tell me how they looked. I heard her opening the package and then there was a moment of silence.
After a moment she said, "Oh Nicole…" 
It was the way that she said it. It was barely more than a whisper, but the awe and appreciation were the loudest thing ever heard. I knew that they were perfect. When we made it back home, I found the rings hidden in a box in my room. The very first thing we did when we made it home, was look at our wedding rings for the first time, and my was right. They were more beautiful and awe inspiring than I could have imagined.
Nicole
Hello!  This is Julie, Jake's new fiance 🙂  We know that you are busy at a Trade Show…but we wanted to let you know that we received the ring (Jake had to chase down the mail truck…but that makes the story that much better!! 🙂  It is absolutely the most beautiful ring I've ever seen!  Thank you so much for pouring your heart and time into the ring.  You are truly gifted.  I'm thrilled that my ring is so unique and the twist design is a great representation of our new life together.  Everyone keeps commenting on how it is "so me"…and I completely agree!   Not to mention that it's "Julie- proof" as Jake calls it (i'm a klutz!).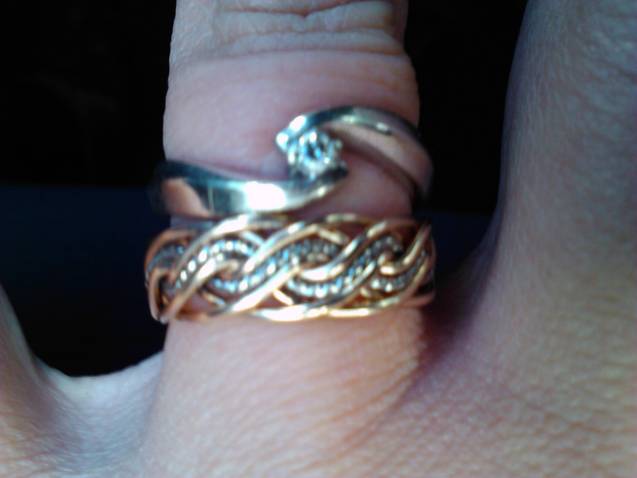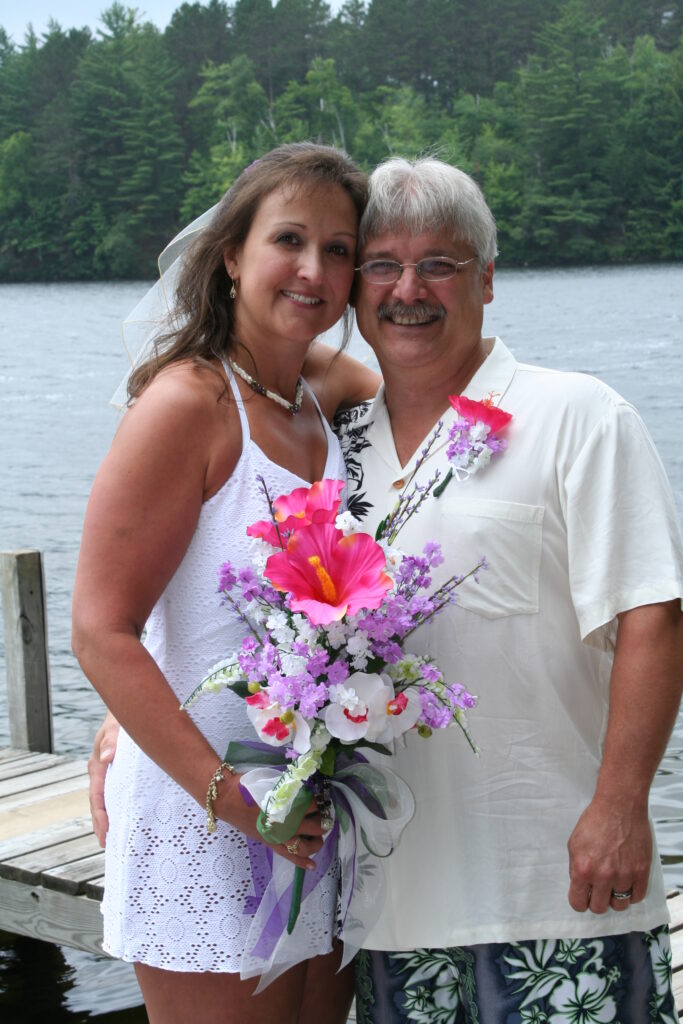 Matching her Engagement Ring
 I have told this story to most all the people that know me, about how I got my wedding band, and it is a great story to tell when someone tells me that my wedding band is very beautiful.
The story goes…..
My husband and I were to be married on July 9, 2011, on our camp dock in Island Pond, Vermont.  This was a beach wedding, in casual beach attire and an outside reception hosted by our friends across the lake.
First you must know that George, my husband, and I are not material people.  However, we work hard, but play just as hard!  We live in Vermont, and enjoy something for fun in every season.  The other point, I DOOOO love jewelry, just as my Grammie did
My husband asked me to marry him with the engagement ring as you see in the attached picture, on my birthday, July 4, 2010.  I love to plan parties, and had this wedding pretty much planned within 6 months, because it was a simple, casual wedding in our favorite place to play in Island Pond, Vermont.
I LOVE braided anything and crisscross anything.  I have been a dancer my whole life and run a small dance studio, and if you look at my leotards or tops, most of them are made up of cris cross straps, and even my casual belts are mostly braided ones.
Yes, I have always had long hair, so we all know that braids are a given, with most long haired women
Anyway, the story……..
I wanted a hand made wedding band that would go with my engagement ring, as it was not something that was made for a wedding band set.  I went to the local jewelry store that I knew made custom jewelry, and asked if it was possible to have a ring made to go with my band.  I LOVE yellow, white and pink gold combinations, so wanted to hopefully have something made to that affect.  What they said they could make was not really that, but close enough for me to be happy.  So I left my engagement band for them in order to form with my 'to be' wedding band.  I was told it would be done in about a month, so I said fine and went on my merry way.  Four weeks later after not hearing anything, I decided to go to the store to see what the progress of the ring was.  Long story short, I was told that it had not even been started yet and was given all the excuses in the world.  So I left and thought, I will give them another chance.  So, I went back in two weeks to see what the progress was.  When I walked in, the jewelry maker did not even remember me, and when I told him that he was making a wedding band for me, he asked me…..ready for this one……"Well, are you married yet?"  I stood in shock.  I composed myself before saying anything, and simply said, "No. But I am here to take my engagement ring back, and I am also canceling my order for my ring."
Very discouraged, I went to the other jeweler in town that I had done business with before, hoping that he'd be able to help me.  I had to tell him the story of going to the other place to have a custom made band, and he got angry and said, "He doesn't even make his own jewelry!  He sends it out to be made!"  So still frustrated and feeling the crunch of time to have a band that I would be happy with, I asked him if there was something he could suggest to go with the engagement band.
He looked at it, then tossed it back to me across the counter and said, "Well obviously your fiance shopped at the wrong place cause there was nothing made to go with this band and you're not gonna find one."  I was devastated.  I was just trying to find help in finding a ring that I was so excited to be able to wear, and I felt like I was just getting shoved aside.
So I picked up my ring, said Thank You (holding back my tears), and walked out to go find my fiance.  I told him what happened, in tears, and said I was going home and getting online to search for a ring.  Now, keep in mind, I am all about supporting the local stores as much as possible, but I will NEVER go back to either one of these stores again!!!!
So I spend about 2 days looking online to find nothing that really jumped out at me.  Feeling crunched for time, I got discouraged and did not even look again for close to a week,  Wearing a wedding band means more to me than just wearing a band, and felt like already something was working against me.
So after about a week, I typed in braided wedding bands in the search, just like I had done before, and there it was!!!  Todd Alan Studios, Hand woven bands.  So I clicked on it right away and instantly got that twinkle in my eye as I looked at all the beautiful options you could have.  I was sold already!!!
Now I knew my husband wanted a titanium band, so I knew already, that our bands would not match, but I was ok with that because we would both be wearing what we wanted.  So I love the mixture of golds as stated above, and finally decided on a ring that was just in the same price range that I had originally been quoted, but now with so much more enthusiasm of buying it cause it was exactly what I wanted, and also looked great with my engagement ring.  I sent an email to Todd Alan to be sure it could be made in time, and the deal was done!!  Also after that, I found a ring that my husband really liked, and there was definite similarities that 'tied' our bands together!  It was perfect.
So I got my ring in plenty of time, and was VERY excited.  We were married, then a few months later, one of my strands came apart from the ring itself, so I emailed the Todd Alan studio and explained what happened, and it was fixed without any question, at no charge!  How wonderful!
I love bangle bracelets, and because I love the mixed golds, they are not cheap.  So I looked at his site one day to look at his bracelets, and ever since, I have a print out of the 2 different tri color bracelets from the Todd Alan website, that I have on my wish list to get someday when I can afford to spend that money, sitting on my work desk.  So in hopes that my story is picked for the custom bracelet, maybe I will in fact get that matching bracelet to wear with my wedding band.
So I have attached a picture of the wedding band and my engagement ring, and also a picture of my husband and I from our wedding day
Even if I don't win the bracelet, I will keep my wish list paper on my desk, in hopes to get to order it some day!
Thank you so much for making the wedding ring experience a good one, after it not starting off very well!!
With much appreciation,
Heidi
From the Wedding that I wear every day
My husband and I have known each other for 12 years, been together for 5, and married for 2.  Three years ago, we were in the midst of planning our wedding.  Things were coming together nicely – we knew we wanted a Renaissance wedding, and anything we found that fit the theme, we bought!
My husband got me a beautiful two-tone claddagh engagement ring with a diamond, and I must say the most difficult thing about planning my wedding was finding a wedding band to go with my engagement ring.  I must have looked online for 6-8 months trying to find rings that would look good with my ring.  I knew those chain stores in the mall would not have what I wanted.  I actually didn't know what I wanted, but I knew it wouldn't be there.
I was up late one night, it was around 4 am, when I came upon your website and knew my search was over!  I knew the two-tone braided ring would go so beautifully with my engagement ring, and I waited patiently for my husband to get up so that I could show him.  Luckily, he loved it, too!  And we got them right away.
When I look at my ring, I love how beautiful it looks with my engagement ring.  I think about what a delight it is to be married to the guy whom I had such a huge crush on in high school.  I remember how our ring bearer did TOO good of a job of protecting our rings (he wouldn't give them up when it was time; he was 3 at the time).  I also remember how we wrote about our braided rings in our vows:
 I now want to give you this ring as a symbol of my never-ending love. 
The braids on this ring represent our handfasting, and how the vows we shared today              will always be with me.
I hope that every time you see it, you think of me and know how much you mean to me.
I also think about how not too long ago, my husband LOST his ring!  We went on a diet after the wedding.  I lost 45 lbs so far; my husband lost closer to 70 lbs.  It was too big for his finger, and it fell off and was gone!  (I actually wear my rings on my middle or pointer ring, until I stop losing weight so I can get them re-sized.)  Although, he claims it's in the house somewhere.
I'm so happy to have found you for our rings.  It is the one physical thing from our wedding day that I wear every day, and it's always with me.  Thank you!
 – Bernadette and Shawn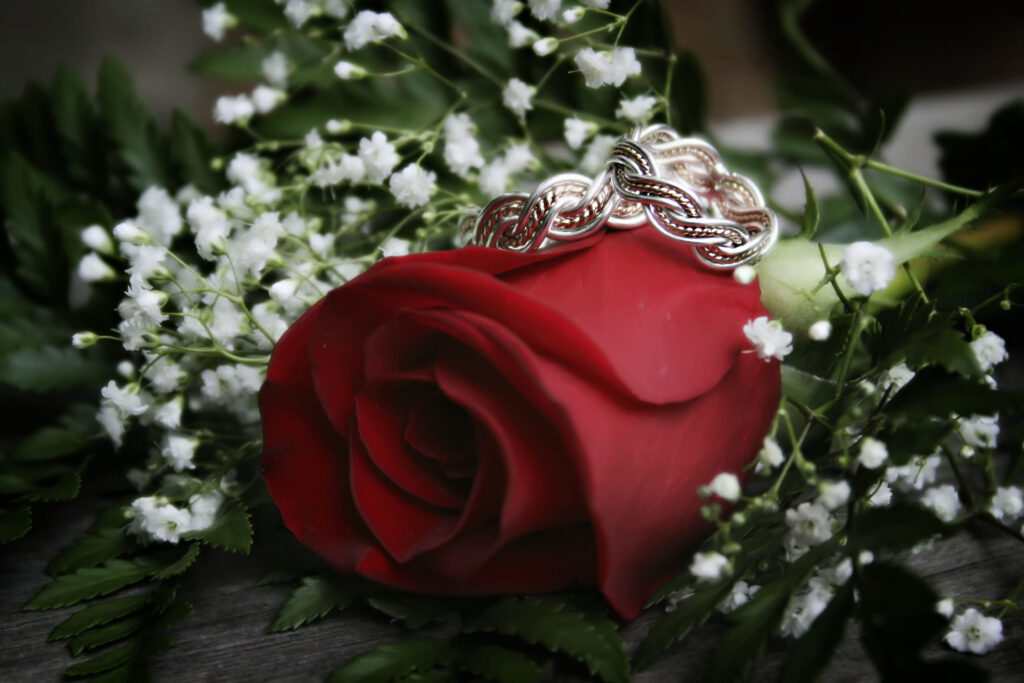 Matching her Engagement Ring
Todd~
I wanted to thank you for making my perfect engagement ring.  I receive so many compliments on it and everyone that sees it asks me where I got it.  My husband says that you were wonderful to work with to pick out the details and help him along in the process.  I wanted a one of a kind ring and since my husband is in the Coast Guard, I love things that look nautical.  You and my husband made my wish come true!  I have had my ring for 2 years now and it is still as beautiful as the day my husband asked me to marry him.  You do beautiful work and I recommend you to complete strangers all of the time!! Thank you so much!
Very Respectfully,
Ashley and Jack 
Dear Todd,
First off, we LOVE our wedding bands and I have 3 stories for you.
#1.
After 30 years of a great relationship, we decided to get married in the District of Columbia as it had become accepted as legal in Maryland. This was before Marriage Equality passed it's referendum during the recent election.
We picked a date and while on tour (we are touring musicians), we discussed rings. Neither of us wear much jewelry, so we knew we wanted something not overwhelming, but elegant and simple. My imagination took me to two simple bands braided together to symbolize our lives weaving around each other.
That night, Marcy got on the internet and found your website. She showed me the four strand bands we ordered and we LOVE them.
#2
During the wedding ceremony, my nephew had the job of passing the rings around to our friends on a small white pillow to bless while our friends Adam Hurt & Beth Hartness played beautiful banjo & guitar music. That was very special and everyone loved the rings.
#3
We had an unusual wedding with only 3 weeks of planning. We had to choose the ONLY weekend day and time we were both going to be home this fall. Marcy flew home on the morning of Sunday, Sept, 30 for the wedding. We worked with a friend of ours to create the structure, readings and ceremony and had lovely contributions from friends:
*Tom Paxton (famous folk musician and great friend) sang his fabulous song, "You Are Love"
*Rolly Brown composed a new guitar piece for the wedding'
*My sister and brother in law read poems
*Our nephew passed the rings around to be blessed
*The Hula Honeys musical group from Maui sent gorgeous flower leis for us to place on each other and a matching corsage for Marcy's mother.
*A dear friend who makes wedding cakes for a living made us a spectacular and delicious white chocolate mousse and dark chocolate cake with ukuleles on the top
Most people have a 20 minute ceremony and a 4 hour party. Because it was a Sunday evening and we could only get into the space one hour in advance, we had a 4 hour party INSIDE of a 1.5 hour ceremony. It was followed by toasts, champagne and cake. Then, with several friends from out of town, we headed home to a slumber party with the outta towners who were staying with us.
Every once in a while, during the ceremony, Marcy would lean over to me and say, "Are we married yet?". Debbie Block, the celebrant would look at her and smile and say, "Not yet".
When we finally got to our vows, Marcy went first. In addition to all of the romantic things she said in her vows, she also vowed that
"If you are annoyed with someone, I vow to also be annoyed at them."-big laugh
"I vow to read your emails before you hit send." –bigger laugh
Finally, she put the ring on my finger and I looked at everyone and said, "Now one of us is married!" – huge laugh.
Of course, I said my vows and she got her ring and we will live happily ever after.
We love the rings and would love to match them with bracelets!
 The photos that accompany this story are sent separately in a yousendit file.
Thanks!
Cathy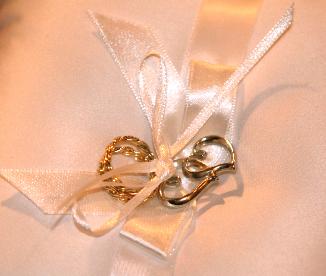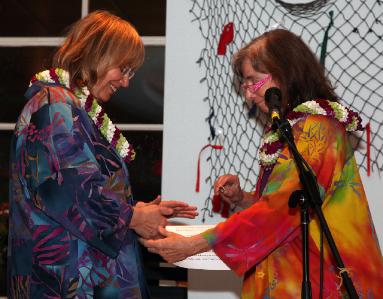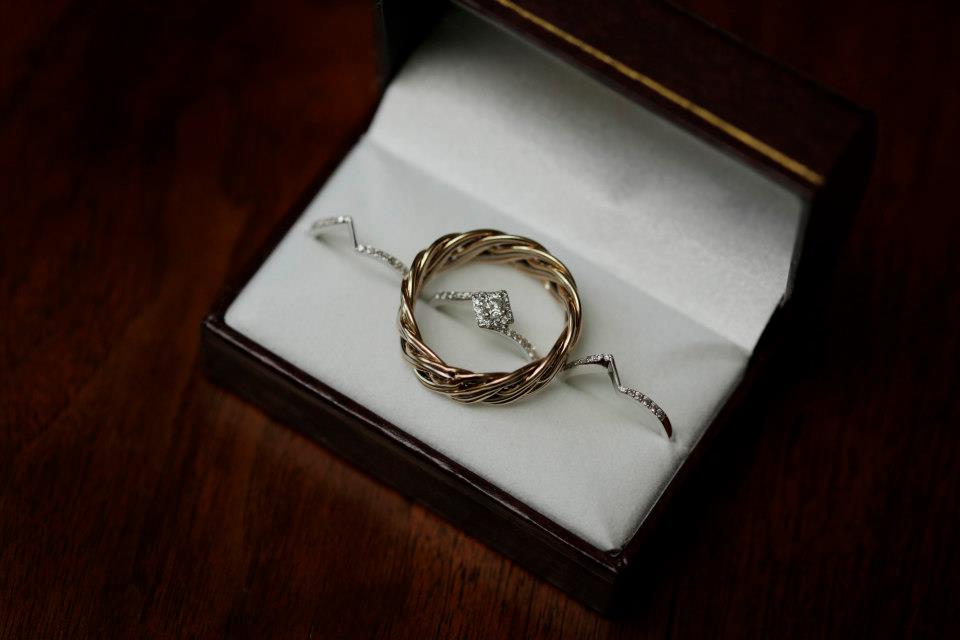 Matching her Engagement Ring
~Hello Todd Alan,
I truly love my wedding band. Melissa, my wife was darling to order me my ring from yourself.
It has received many wonderful compliments as it is unique and people notice that a man's wedding band is handwoven.
You do masterful work and it is greatly appreciated.
Thanks for your creative craftsmanship.
Jeffery
Never-ending journey together
About four years ago my (now) husband and I were looking for wedding bands that were "unique." We did not want the same thing that everyone else had and we also wanted something that was within our budget. As providence would have it, I came across Todd Alan's site one day and knew I had found what we were looking for.
Little did I know, however, what all our special wedding bands would come to symbolize. When I look at my ring and his I see the uniqueness of two individuals. We each chose slightly different, but complementary, designs. While God united us as one, we are each still a very distinct person created in His image and with our own backgrounds and temperaments trying to merge into that idea of "one." I find it very symbolic of our personalities that we chose different ring styles, rather than the traditional matching bands that most couples prefer. We each bring our own special "ingredients" to this marriage.

When I see the twisted strands of our bands I also think of the discordance that goes along with uniting two people under one roof. There are arguments, hurt feelings and plain, downright selfish moments that must be endured. But through that tangled mess of emotions, not unlike the intertwined weave of wires of our rings, we always re-unite and persevere in our love. The twisted strands on our bands show that marriage isn't always an easy path, but we can always come full circle and stay on a never-ending journey together.

We love our wedding bands and all that they symbolize, but most importantly, we love each other and are committed to "til death do us part." And when our day comes to join the Lord, we hope our son will understand the significance of our wedding bands and treasure them as much as we do. May everyone's marriage be as blessed as ours!
Roberto & Lisa Garcia
Thank yo so much for sharing your stories with us! We wish the best to you all.