All of Todd Alan's designs are protected by copyright.
Most people have some old or broken 10k or 14k gold jewelry that simply sits in drawers and jewelry boxes and takes up space while gathering dust. Because we work with gold, we accept trade-in of your old stamped gold chains, rings, earrings, and other stamped gold as partial payment toward your purchase from us. We can either give 85% of the market value of your scrap gold toward your purchase or you can turn it in for scrap gold or have us recycle gold into a new ring by puling or melting it back into wire.
This is noticeably above what most pawn shops or gold buyers pay the public for gold. We do not buy gold for cash; we only accept gold toward the purchase of our products. Check with your friends and relatives to see who has scrap gold to contribute and make the ring purchase part of your wedding experience a little easier on your finances. It can feel good to recycle what you already have into something new!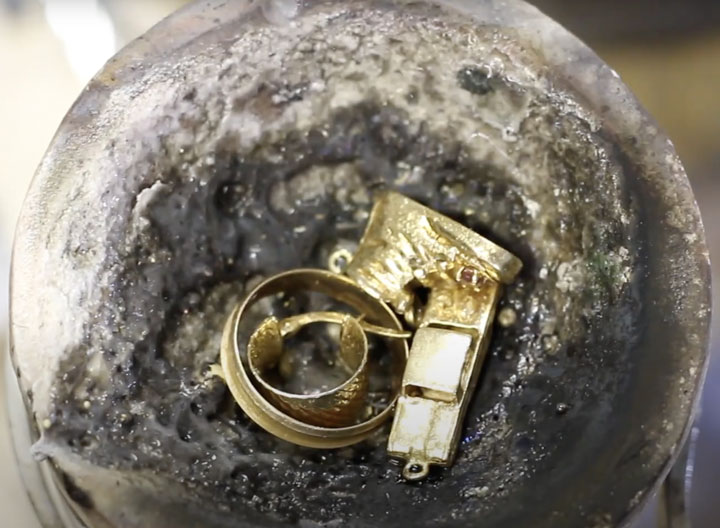 Please send your gold, platinum, or diamonds to the following address:
 
Todd Alan Studios
506 S Pineapple Ave
Sarasota, FL 34236
 
Please include a note telling me which style of ring(s) you are interested in.
When I receive your gold, I will email you with the value of the scrap gold that I will credit toward your purchase along with a detailed explanation of how I obtained that figure.  If you accept that offer, reply to the email confirming your acceptance.
 
If you do not accept the offer, we will return your gold back to you within several days.
Also include your return address and daytime phone number so that we can talk with you about your order.  There is no charge for valuing your gold.   
We give you 85% scrap value of your recycled gold. If you want us to melt down your gold because it is sentimental then we charge a $100 melting fee per type of metal (Example: yellow gold, white gold, rose gold). 
If you are interested in trading in gold toward your purchase, please email us for detailed instructions at todd@handwovenbands.com or give us a call at 941-217-4969
Confused? If you have any questions please email us at: