All of Todd Alan's designs are protected by copyright.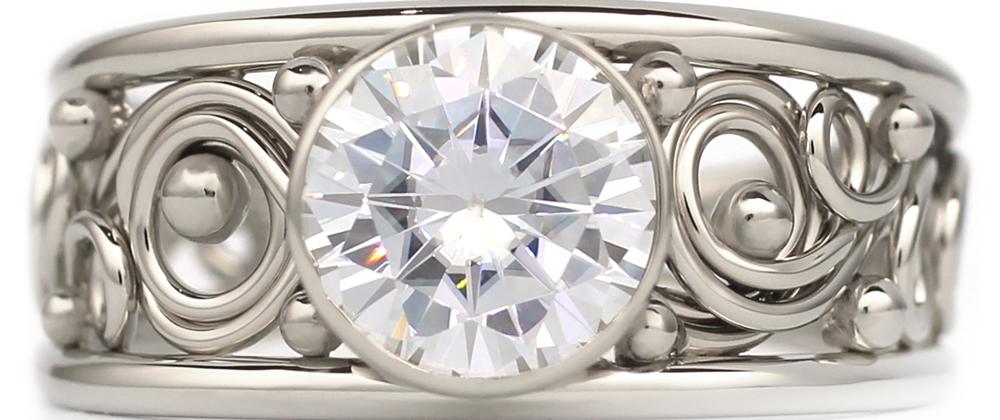 Here at Todd Alan Studios our engagement rings aren't mass produced. We're here to help you create the perfect ring for you, specifically, and we want you to be part of the design process. Since every ring is completely unique, one-of-a-kind, and handmade, you make every choice; from selecting the braid, to choosing the metals, to picking the perfect stone. We make you a unique piece of art that will last for generations to come.
All of Todd's braids can be turned into an engagement ring by adding a diamond or moissanite and selecting a setting. We encourage you to look around and search for the right braid first, however please keep in mind we do not mount our stones in silver. You can look at our complete selection of braids by clicking here. Once you have found the perfect braid, you'll need to pick a setting. For round moissanites we have Bezel and Prong settings, and for square moissanites we have V settings. After picking your setting, the last step is to select the size moissanite you would like. We'll do the rest and create the ring you've envisioned. If you need a size, cut, or shape moissanite that you don't see below, or if you have any questions, please contact us. We are more than happy to speak with you about moissanite qualities, pricing, and general information.
How to Design Your Unique Moissanite Rings
2.) Choose Your Moissanite and Setting On This Page

Fire. Brilliance. Strength.
Artfully crafted, this alternative gem is a great choice for sparkle! A durable beauty, moissanite makes a brilliant alternative for engagement rings. A less costly substitute for diamonds, moissanite was originally found in a meteorite crater and its lab-created counterpart has since landed in hearts everywhere.
Color & Clarity: Our Moissanite is near-colorless with a slight icy hue. It's also eye clean and considered flawless to the naked eye. 
More Fire, More Brilliance: As you know, moissanite is more brilliant than any other gemstone in the world because of the way it refracts light. So, add this to make a sparkling complement to any gemstone center stone.
Environmental Conscience: Grown in a lab, moissanite is conflict-free. This may be an ideal option for customers who oppose mined stones.
Lower Price-Point: Moissanite costs less than diamonds. To keep within budget constraints, we suggest  moissanite in lieu of diamond accents.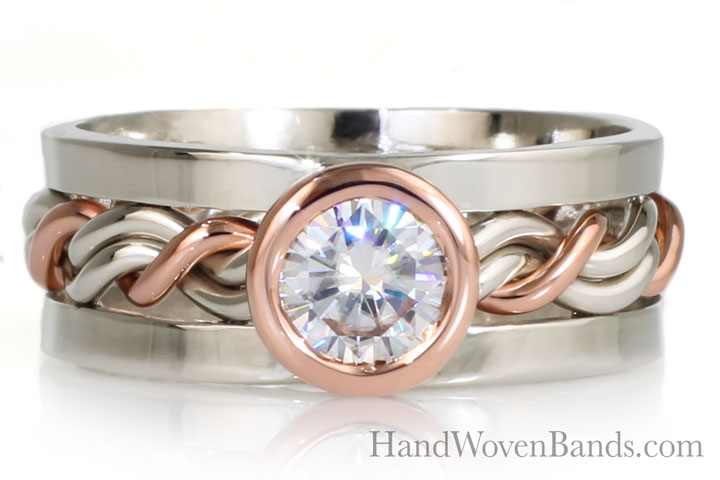 Sizes and Cuts of Moissanites
Once you select a size below, Todd will mount it in any of our handmade bands of your choice. If you are ordering multiple rings, please add a note in the comments section of the order letting us know which ring you would like your stone mounted in. Please include any other special instructions in the "comments" section of your order.
Feel free to contact us if you don't see what you're looking for in the chart below or if you have any questions, we are more than happy to help you through this process to ensure you get exactly what want for your special occasion.

Click Below To Print a Full Comparison Chart
Want to add something special?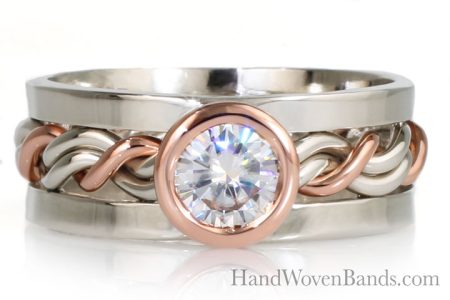 Lab-Grown Diamonds are not simulants. They are genuine diamonds that scientists create in a lab instead of being mined in the earth. Lab-Grown Diamonds can cost 30-50% less than Natural Diamonds.
One of the beautiful things about lab-grown diamonds are that they are conflict free and all of them are VS quality or above and F+ color!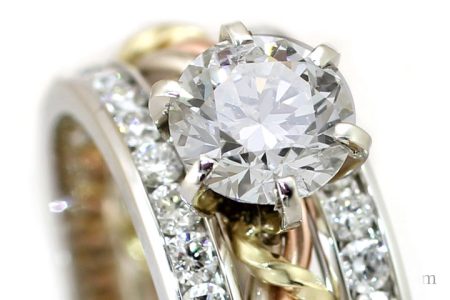 Todd uses only the highest quality, conflict free diamonds in his rings. Explore our different qualities and cuts. We specialize in princess cut or brilliant round cut.