All of Todd Alan's designs are protected by copyright.
Design Your Six Strand Open Weave Below
About The Six Strand Strand
You can have this ring woven with or without outer bands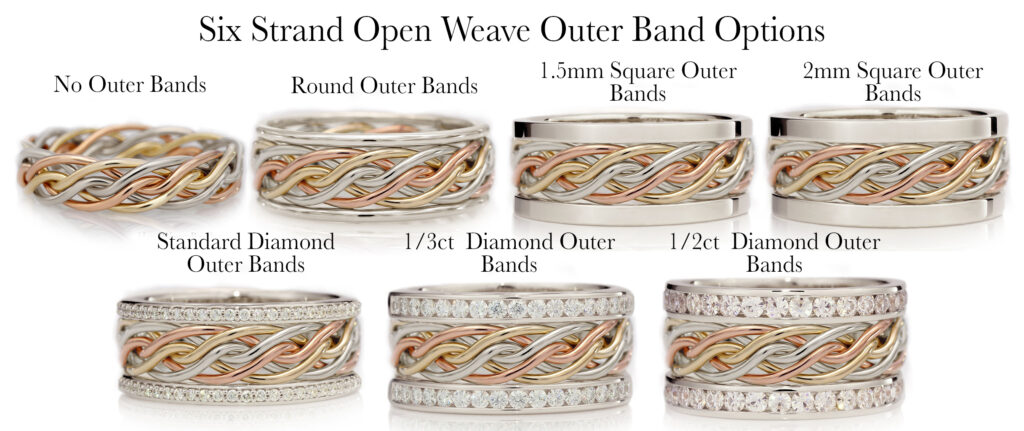 This is one of Todd's most popular styles- and also one of his personal favorites. This braid design is an open-basket weave that is both elegant and sophisticated. It is one of the best choices for tri tone rings.
The first step in choosing the perfect ring is picking the best width for your finger. Each width is made with different gauge strands, which changes the size of the ring. If you prefer a smaller and daintier ring, select a smaller with your width. If you tend to be more active with your hands and feel you are tougher on your rings, select the larger widths.
Six Strand Open Weave - No Outer Bands

The Standard Six Strand – 618 – is woven from 18 gauge metal. It is the perfect choice for those who love subtle rings and we recommend this width to most couples, especially if they want their rings made from the same braid.
The Middle Six Strand – 617V – is a sturdier version of the 18 gauge and is great for a single ring on one finger. Good for being made out of the same strand. 
The Heavy Six Strand – 616TV – is woven from 16 gauge metal strands. It is the largest and strongest of this type of braid and is best for those who are hard on their rings day to day or have a ring size larger than 9.
Six Strand Open Weave - With Outer Bands

OB620V – A great Women's ring: 620V -this braid is excellent if you are looking for a petite braid or have smaller hands.
OB618V – Same Braid: 618V – Todd can weave one long strand and make both rings out of it. This echoes the beautiful symbology of the couple's lives being intertwined. Read more about the same braid process below.
OB617D – Men's: 617V this sturdy braid is a wonderful choice if you work with your hands or just want a larger ring.
About Standard Outer Bands
Round Outer Bands: adds 2.6mm – these thin round bands are made from 16 gauge strands and give the braids a very organic, flowing design.
Standard Square Outer Bands: 3mm – this square option is slightly larger than our round outerbands but completely changes the energy of the ring. It gives more of a geometric look to the braid.
Large Square Outer Bands: 4mm – this gives a very handsome appearance to the ring, if you like large rings, this is an excellent way to add a bit of extra width to your braid.
About Diamond Outer Bands
Standard Diamond Outer Bands: adds 4mm to the ring – Each band has 27 1.1mm diamonds and a carat weight of 1/8ct which gives your rings a total of 1/4ct.
1/3 Carat Diamond Outer Bands: adds 5.58mm to the ring – Each band has 17 1.7mm diamonds and a carat weight of 1/3ct which gives your rings a total of 2/3ct.
1/2 Carat Diamond Outer Bands: adds 6.18mm to the ring – Each band has 16 2mm diamonds and a carat weight of 1/2ct which gives your rings a total of 1ct.
Making Rings From The Same Braid
If the same braid width is chosen for both rings, Todd can weave one long braid and create both wedding rings out of this single braid.
For some, this represents two separate individuals who choose to weave their lives together and have even incorporated this symbolism in to their vows during their ceremony.
You can tell what the center braid is by the number on the inside. 617 means a 6 strand braid made with 17 gauge wire. OB or DOB means "Outer Bands" or "Diamond Outer Bands". So a 617 and a OB617 (as long as the colors/metals are the same) will be made of the same strand. Regardless of what color or type (if any) outer band is added.
Add A Diamond or Stone to your Ring